Published by Dara Holsters on 18th Jun 2019
Looking for the Best AIWB Holster on the Market for your Glock 19, 19X or Glock 45 with RDS? Look no further than our ready to ship Slick Side Appendix Holster! Ships same Business Day!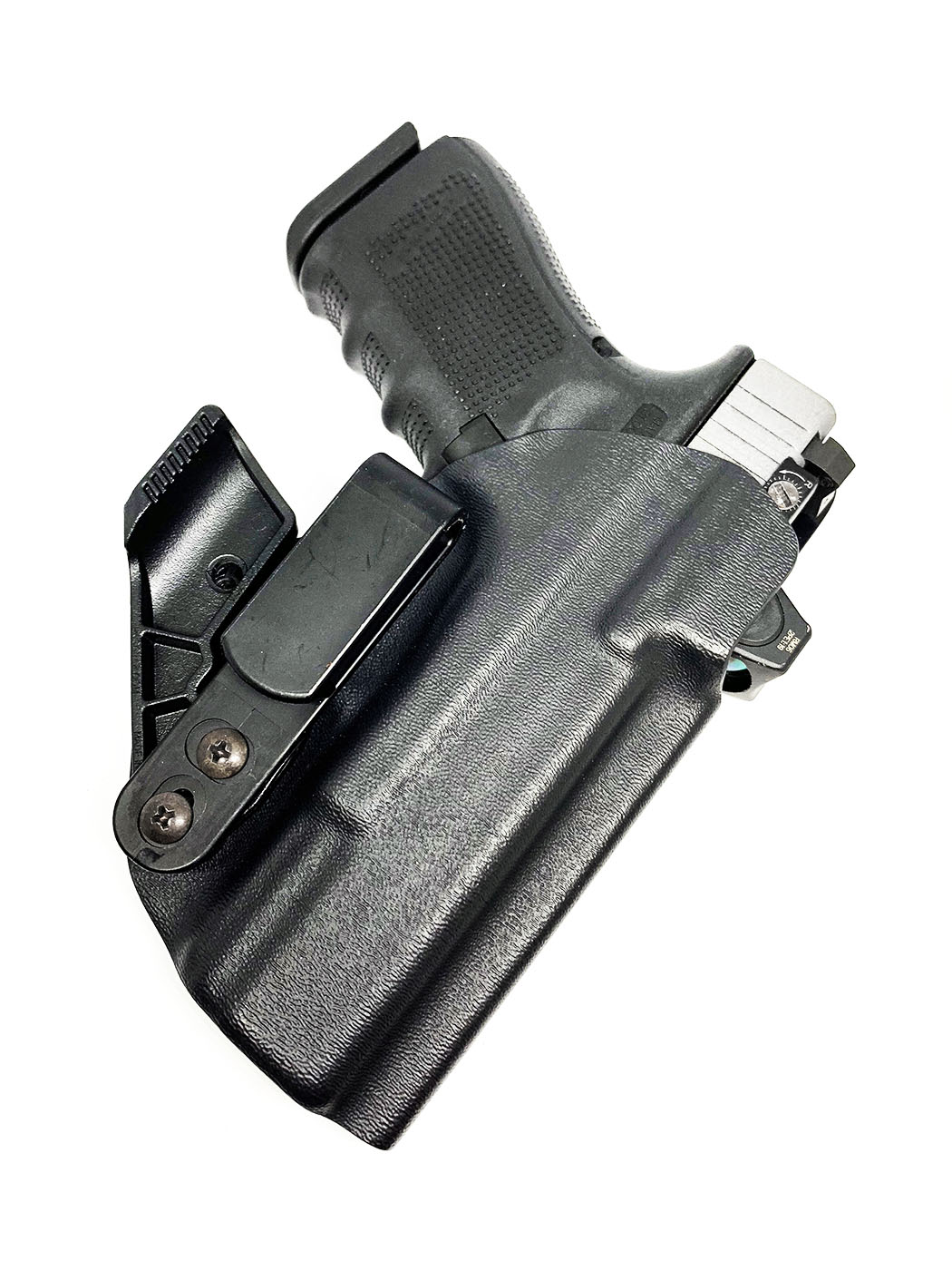 Packed with dozens of features, this slim, streamlined holster is the ultimate Concealed Carry Holster for any carry gun. Want to know why it's the best? Read on...
Our Optic cut Glock 19 Slick Side holster features a full sweat shield to protect the optic and the body, to prevent pinching when re-holstering. There's nothing worse than re-holstering your gun and pinching yourself right in the gut. Most holsters on the market have either a tiny incompetent sweat guard, or a tall skinny sweat shield just waiting to cause an ND. The Dara Slick Side Holster comes with enough height to protect your body and rounded, finished edges for comfort while carrying. Check it out below:
As with any in-stock optic cut holster we offer, this one comes with a taller sight channel to accommodate cowtiness sights. Don't have suppressor height sights? No problem, having the taller sight channel without taller sights doesn't cause any issues.


Unlike 90% of the other holsters out there, this one features a covered magazine release button that prevents unwanted mag ejection. Plan on getting an extended mag release, or currently have one? Not a problem- just let us know and we'll accommodate that for you before shipment!


Superior .093" material thickness that makes re-holstering safe, quick and easy. There's a reason why our holsters feel superior to our competition's- they simply are. We use better materials that not only last longer, they perform better than thin cheap garbage material.


For any of our holsters, precision molding, resulting in a perfect fit for you carry gun sets them apart from the rest. We use the exact firearm model to mold your holster and guarantee a perfect fit for everything listed on the drop down menu or your money back.

The Slick Side Holster comes with a slim, tuckable 1.5" clip that completely encircles the belt, offering stability and tuckability. These clips allow the shirt to slide behind the strut, allowing deeper concealment when occasion calls for more formal attire.



Also has an adjustable cant angle for ease of concealability. Don't feel like carrying appendix today? Loosen the two screws holding the clip and adjust in either direction. For cross draw, you'll want a reverse cant, and for hip or behind the hip, you'll need a forward cant.


Be sure to check out the Grip Concealment Claw that aids in concealment. The Claw pushes against the belt, pulling the grip into the body. If you don't like it, or find it uncomfortable, simply remove it and go about your day!


Mid-to-High Ride height (dependent upon firearm model) allowing for a full firing grip when drawing. Because this is an appendix holster, it does automatically come with a grip concealment claw attached. Due to this feature, the holster must come with a slightly higher ride height. The claw needs to be mounted in a spot on the holster where it can perfectly align with the belt clip to work properly. This spot is usually below the trigger guard area. Because there are so many different model firearms with so many different dimensions, we may have to make the holster with a higher ride height. For example, because the VP9sk has such a long/large trigger guard, the ride height has to be higher to a) allow you to get a good firing grip on the gun and b) mount the claw in an area that allows it to line up with the clip without mounting it on top of the trigger guard.


Competitive price when compared to other similar holsters on the market made with inferior materials. For $55.99 this Appendix Holster will not only function better than others on the market, it'll last a Lifetime longer! Don't be fooled by other holster companies charging $60 for thin, inadequate material that will only crack within a few months of daily use. Our holsters have withstood the test of time and are guaranteed for life!