Published by Dara Holsters on 28th Jan 2020
Looking for a reliable, rugged OWB Holster for your CZ P10c? Look no further than our Custom Kydex OWB Holster. Keep reading to see why this holster is the BEST on the market.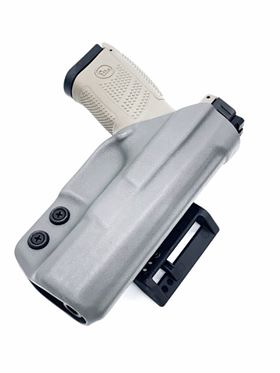 Our OWB Holsters are designed for quick, easy grip access and rugged reliability. The body of our OWB Holster is made from .093" thick blended polymers, molded specifically to your firearm and any customizations listed on the order form.
Custom Options:
Choose your firearm from the drop down menu on the order form. If your firearm is not listed explicitly, there is a possibility we don't offer a holster for it. You can call our Customer Support to inquire about compatibility, but please keep in mind that we cannot make a holster for something that we don't have the mold for. A full list of Firearms that we are able to make holsters for can be found here: Full Firearms List
If you do not see your firearm on the list, we will ask you if you'd like to make a request for that firearm. If we receive 10 requests for a firearm and/or firearm and light configuration, we will put that configuration into production.
If your firearm model has several variants, such as the CZ P-01 Omega with swapable safety and decocker, you'll need to tell us in the "Notes" section of the order form. If you have the "Tactical" or "Performance Center" version of a firearm, please let us know about your taller sights and/or threaded barrel.
Taller sights can be accommodated for by checking "Suppressor Height Sights" towards the bottom of the order form. Our standard sight channel is about .25" high, this will accommodate most stock sights or night sights. If you have an optic and have swapped your stock sights for taller, co-witness sights we can accommodate you with a .425" taller sight channel.
If you have Dawson Precision sights that exceed the .425" measurement, please let us know and we will make special accommodations for the holster.
We offer holsters for both right and left handed shooters, with no upcharge for left hand draw. Simply select your preferred draw hand on the order form. If you'd like to carry crossdraw, select the hand you will be drawing with and adjust the cant angle of the holster once you receive it.
The Ride Height and Cant Angle is adjustable on our OWB Holster due to the Double Loop attachment system, shown below: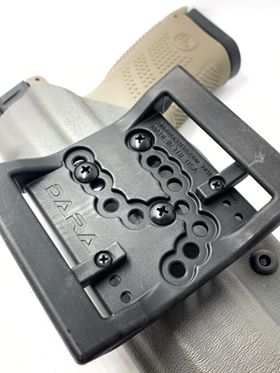 All you need to adjust the cant or ride height is a Philips head screwdriver. Simply back the screws out, reposition and re-tighten. The ride height can be dropped another inch, as well as dropped and offset with the help of our drop offset attachment.
The belt width is also adjustable with our Double Loop system as shown below: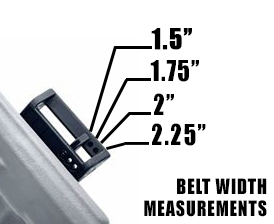 To adjust the belt size, you'll need a Philips head screwdriver. For 1.5" - 2" you'll reposition the size tabs and retighten the screw. For 2.25" wide belts, you'll take the tabs out completely.
For reference, most everyday gun belts are 1.5", most tactical belts are 1.75" and most Duty Belts or Battle Belts are 2-2.25". We highly recommend not using a belt that measures less than 1.5" as it's possible that the belt won't be able to support the weight of the loaded firearm carried outside the waistband.
Belts that are flimsy or made from a single layer of material are often the cause of outward leaning holsters. For a great gunbelt that doesn't break the bank, click here.
To ensure the absolute security and stability of the holster, we've added individual holes for each size adjustment as well as a nut and screw system, as opposed to other loop systems that only offer a slot for belt adjustment. This secures the belt at the correct size without risk of the screw slipping, causing movement on the belt.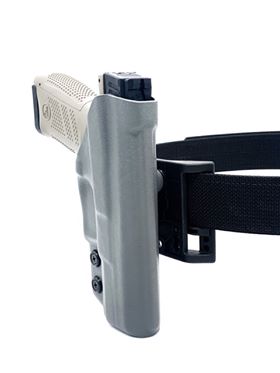 For those of you that have a threaded barrel, we do offer two muzzle coverage options for you. We offer "Threaded Barrel Covered" and "Threaded Barrel Exposed". Most customers will choose to leave their threaded barrels exposed, leaving the muzzle end open and the thread protector visible at the bottom.
If you do not have a threaded barrel, you have the option for a "Slight Wrap" or "Flush" muzzle coverage.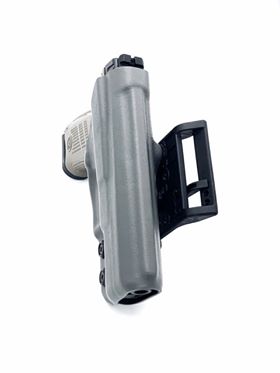 The holster shown above has a "Slightly Wrap", with the edges of the holsters wrapping just slightly around the end of the muzzle. This is most common for pistols without a threaded barrel. If you're unsure of what you want, or you'd like the option to carry a compensator or threaded barrel in the future, you'll want to select "Flush". The "Slight Wrap" option will not work with a threaded barrel.
Also note that our OWB Holster slide coverage comes to almost the very top of the gun. Any safeties that your firearm model may have will be covered and accommodated for, as well as any decockers.
Our OWB Holster covers the magazine release buttons and can be customized to fit aftermarket extended magazine releases. To do this you need to check the box for "Extended Magazine Release" on the bottom of the order form. For Left Handed Magazine Releases, there is also a checkbox option to accommodate you.
Each holster comes with an Adjustable Military Grade Retention System, designed by us for use with our holsters. The Retention System consists of Military grade rubber, able to hold very minute adjustments; making this a truly custom retention system.
If you're looking for a holster with Level 2 Retention, we do offer a Duty Holster with adjustable trigger guard retention as well as a spring operated rotating hood, here.
Our OWB Holsters, while not intended for concealment, are streamline in design with minimal material to cause excess bulk. The material follows the lines of the holster around the trigger guard, offering full coverage but also complete accessto the grip for a full purchase and successful firing grip when drawing from the holster.
The holster rides close enough to the body for inconspicuous carry with a cover garment, but not flush with the body as a Conceal Carry OWB would offer, as shown below:
Our Holsters are offered in size color configurations, some of which may result in a slight upcharge: black, coyote brown, OD green, arctic grey, tungsten grey, and black carbon fiber texture. See below: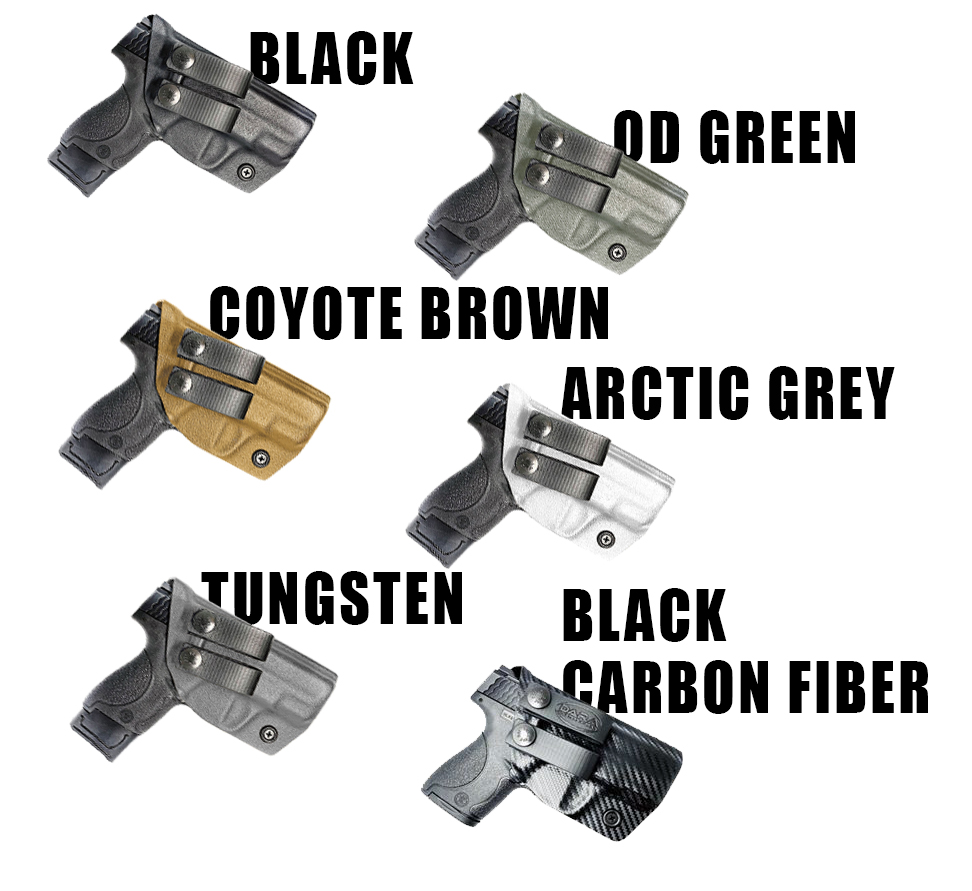 If you have a RDS optic, you'll need to make sure you order a holster cut for the optic. Our Optic cut OWB Holster is the ideal holster for any MOS, OSP or optics ready firearm.
If you have a Light or Laser attachment, you'll need a Light bearing OWB Holster, found here.
Key OWB Holster Highlights:
.093" thick rugged Material
6 color options
Adjustable Retention System
Adjustable Cant Angle
Adjustable Ride Height
Adjustable Belt Width
Customizable Muzzle Coverage
Covered Mag Release
Covered Trigger Guard
Rounded & Polished Edges
Secure Belt Loop System
Lifetime Warranty
Other Holsters for the CZ P10c: