Holster Options for the FNX-45 Tactical Pistol
Please note that all of our FNX-45 Holsters are made with the Tactical variant with accommodations made for threaded barrel and taller suppressor height sights. These holsters will also come optics-ready, meaning cut for an optic. This does not effect the fit or retention if you have a standard NX-45 without optic.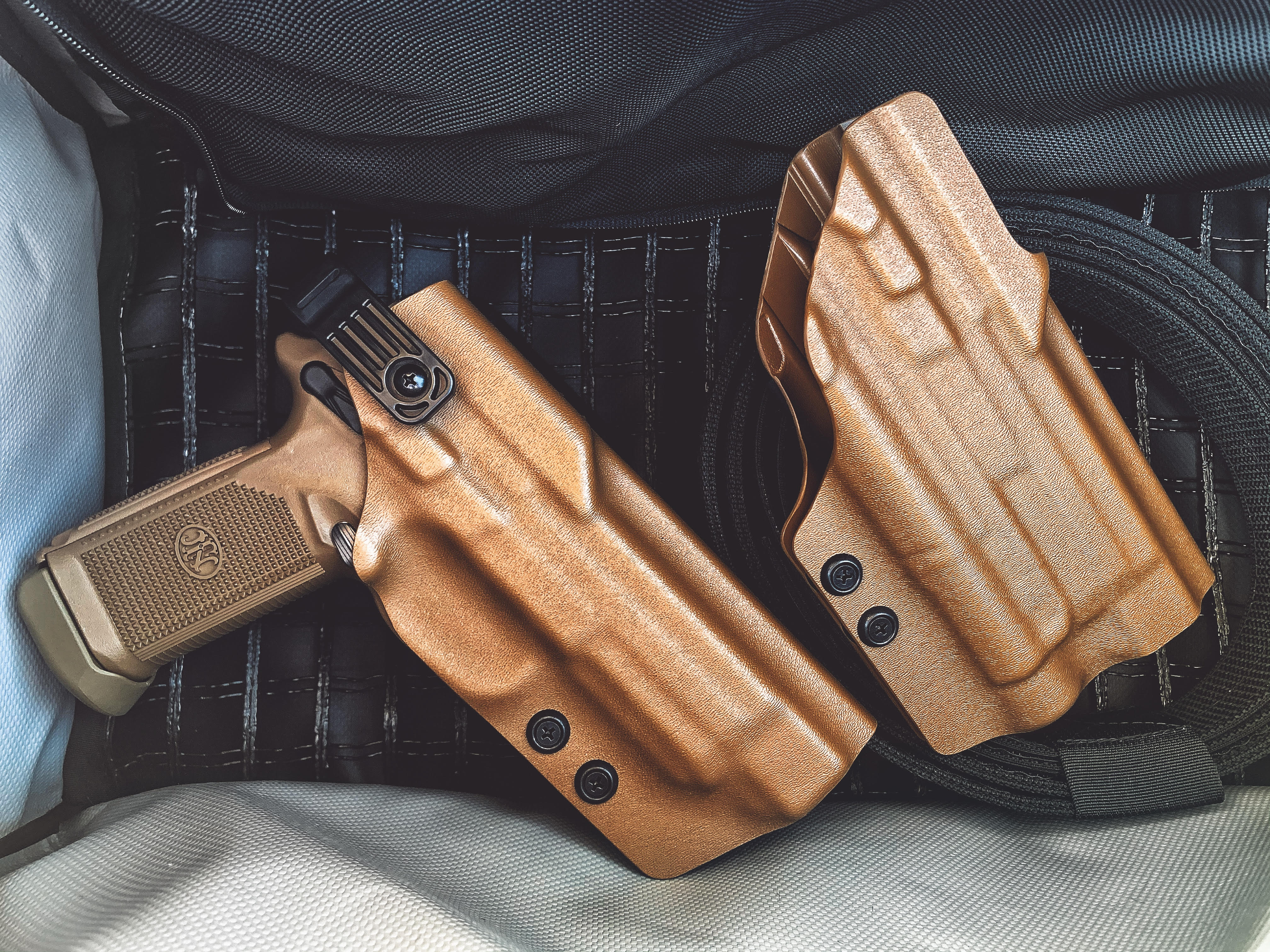 Improving on the FNP™-45 Tactical, developed for the U.S. Joint Combat Pistol Program, the FNX™-45 Tactical FDE was born and bred for battle. Like its legendary FN forefathers, this combat handgun was designed to not only survive the battlefield, but to emerge victorious. It is the latest in technological advancements in handgun engineering, offering .45 ACP performance and a host of unique features that no other handgun can match.

Its 15-round magazine is precisely engineered to take a dive to the prone position and naturally roll up toward the target. The checkered polymer frame has a low-bore axis for reduced felt recoil, enhanced operator control, and a grip angle that provides unmatched natural point of aim. Four interchangeable backstraps come standard to quickly customize the grip feel. All operating controls are fully ambidextrous for ease of use. The 5.3″ cold hammer-forged stainless steel barrel has a threaded muzzle to accept sound suppressors, compensators, and other accessories. The stainless steel slide has high-profile combat night sights and includes two mounting bases to accept multiple styles of optional red-dot electronic sights. Also offered as a non-threaded barrel model, ships with a 10rnd magazine.
Basic Holster Features:
Our holsters, with the exception of our Duty Holsters, are made from .093" thick material. We use a thicker polymer blend than our competition to ensure a higher quality product that will last longer.
We currently offer holsters in 9 different color options: Black (no upcharge), Black Carbon Fiber Texture (+$4), Black Leather Texture ($8), Coyote Brown (+$2), OD Green (+$2), Tungsten Grey (+$2) and Arctic Grey (+$4).
All of our holsters, aside from out Minimalist line, cover the Magazine release button.
All holsters, no exceptions, cover the trigger guard completely.
All of our holsters are molded precisely to each exact firearm, accommodations are made for extended controls.
We offer many different types of holsters for Concealed Carry, Open Carry, Competition and Duty.
Our hardware consists of custom designed, hardened steel hardware that is impervious to rust. The hardware is designed for use explicitly with our holsters, so that we can offer the best products possible. Our Retention hardware specifically, is able to hold the most minute adjustments- a truly custom fit.
All retention is completely adjustable with a Philip's head screwdriver.
All edges are rounded and polished for a snag-free carry experience that won't ruin clothing after daily use.
For more information about a specific holster, please click on the links below!
Recent Posts
Check out some of our newest products: the Decibullz line of Ear Protection. …

Please note: This article does not include the ALQD Auto Locking Quick Disconnect Holster System, …

Here's a round up of our prediction for 2023's top 3 best range bags. #3 - KADRE Tactical Backpa …