Published by Dana on 14th Mar 2018
Holsters for Glock 19 with TLR-7 now available!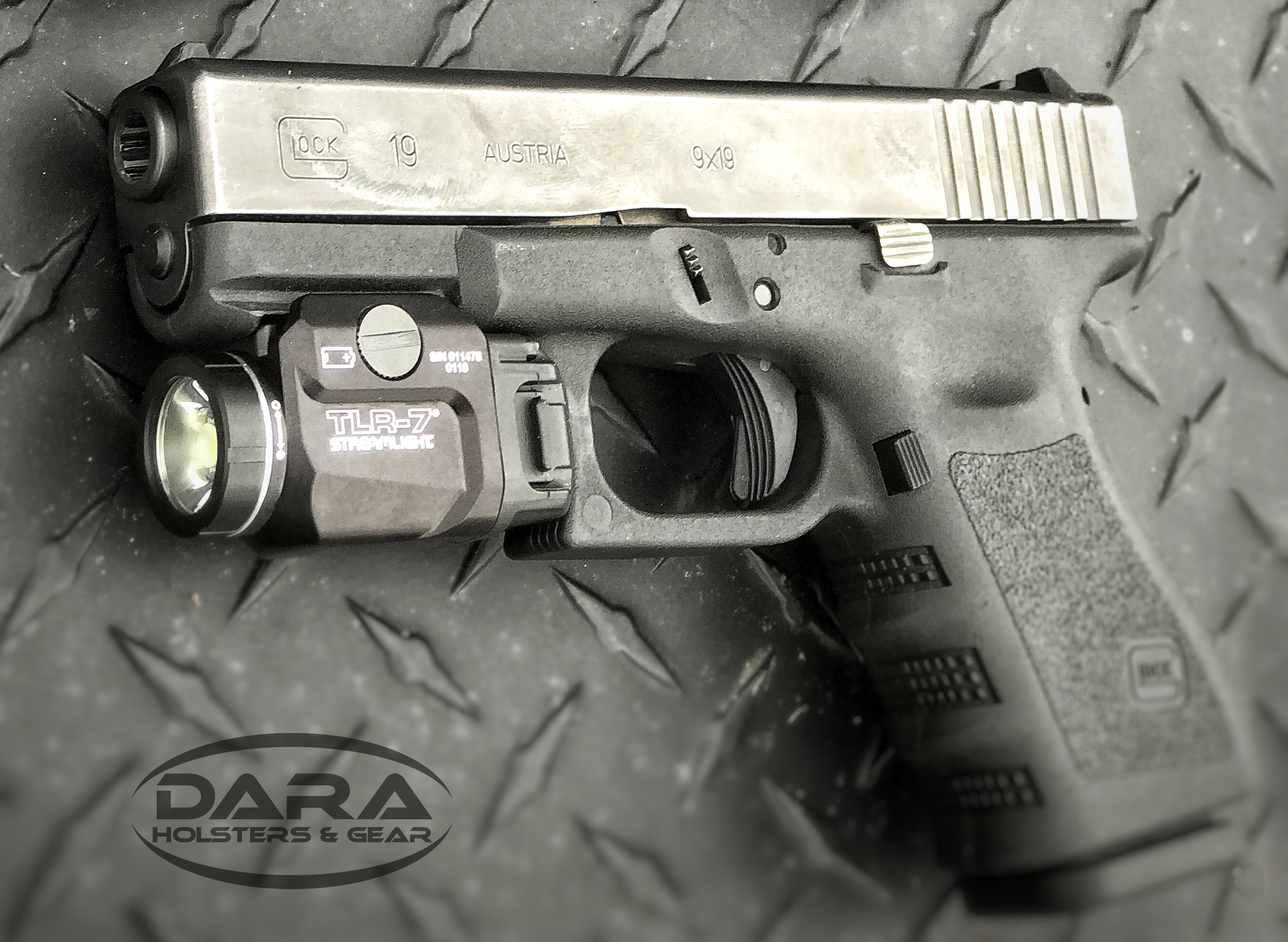 Why Dara Holsters?
Tough, American Made Custom Holsters: Each Custom Holster is handmade in America using .093" Boltaron/Kydex®. Using Melonite coated hardened steel hardware, our products may be the toughest in the business. Every product comes equipped with a Military grade adjustable rubber retention system, designed in house by us for use with our own holsters.
More Custom Holster Options than Anyone: Quality Custom Kydex Inside the Waistband Holsters, Outside the Waistband Holsters, Duty Holsters, and Race Holsters.
Handcrafted, not Cookie Cutter: Each Custom Holster is designed by you and built from the ground up by us. We mold the holsters to your specifications. Threaded barrel? Suppressor height sights? Extended controls? No problem! After a quality check is done with each mold, the edges are cut. We don't use a one-size-fits-all CNC design to cut our edges- we know that every gun is different, so we cut the edges the old school way- by hand.
We're gun guys- we know not every gun is the same. That's why we offer custom options for your custom gun. Suppressor height sights? Optic? Light/Laser attachment? Extended Mag Release? No problem! Just let us know what you've added to your carry gun and we'll build a holster to accommodate it.
Lifetime Warranty: Because we know where our products come from, we have the confidence to stand by them forever.
Our most popular Glock 19 + TLR-7 Holsters:
Customized Glock 19:
Have a highly customized firearm? No problem!
Our Custom Holsters can be built to accommodate suppressor ready pistols, compensators, etc. Just let us know exactly what you've added and we'll manufacture the holster accordingly. If we have any questions we will contact you!
From Streamlight Inc:
Experience the TLR in a new light. The small and mighty TLR-7 securely fits a broad range of full-size and compact handguns. Low-profile design prevents snagging and a "safe off" feature prevents accidental activation, saving batteries.
500 lumens; 131m beam; runs 1.5 hours; 4,300 candela
Custom optic produces a concentrated beam with optimum peripheral illumination
Low-profile ambidextrous on/off switch
Uses one CR123A lithium battery (included)
Safe off feature prevents accidental activation; saves batteries
Rail grip clamp system securely attaches/detaches quickly and safely with no tools and without putting your hands in front of muzzle
Securely fits a broad range of full-sized and compact guns
Durable, anodized machined aluminum construction
User enabled strobe function
2.15" (5.46 cm); 2.4 oz (68.1g)
Operating temperature: -40°F to +120°F
IPX7 waterproof to 1m for 30 minutes
Limited lifetime warranty
Assembled in USA
The TLR-7 is quickly becoming our most commonly requested tactical light. For more information about our Glock 19 w/TLR-7 holsters, visit the individual product pages, or contact customer service!