Published by Dara Holsters on 8th Nov 2018
With custom slide work and slide milling for red dot sights becoming so popular, many of the bigger firearm manufacturers are coming out with their own optic ready firearms in an effort to grab a piece of the lucrative optic cut pie.
Glock, for instance, has one of the most popular optic-ready lines called the MOS configuration.
What is MOS?
GLOCK Modular Optic System makes it easier to mount optic sights on your GLOCK pistols. Optic sights are popular in competitive shooting and are becoming increasingly more popular for home defense and target shooting.
Versatility
The MOS system allows you to add additional tall iron sights, so you have a backup in case the optics fail.
Speed
Faster target transition
Clarify
Quicker sight acquisition of your target
Accuracy
Improved accuracy at both long and short range
Out of the 7 pistols Glock chose to include in their MOS configuration line, the Glock 19 is by far the most popular.
Finding a holster to accomodate the Glock 19 with red dot may not be difficult, but finding an IWB Holster for the Glock 34 gen 5 with RMR is going to be a bit tougher. Check out our Optic cut holsters made for all MOS configurations below!
Optic Cut Inside the Waistband Holsters
Our IWB Holsters are not only cut to accommodate an optic, we take it a step further to provide you a comfortable optic cut inside the waistband holster.
Our optic cut slightly tapers to encase a portion of the optic within the body side to prevent pinching when re-holstering, making our Optic cut IWB Holster the most comfortable on the market.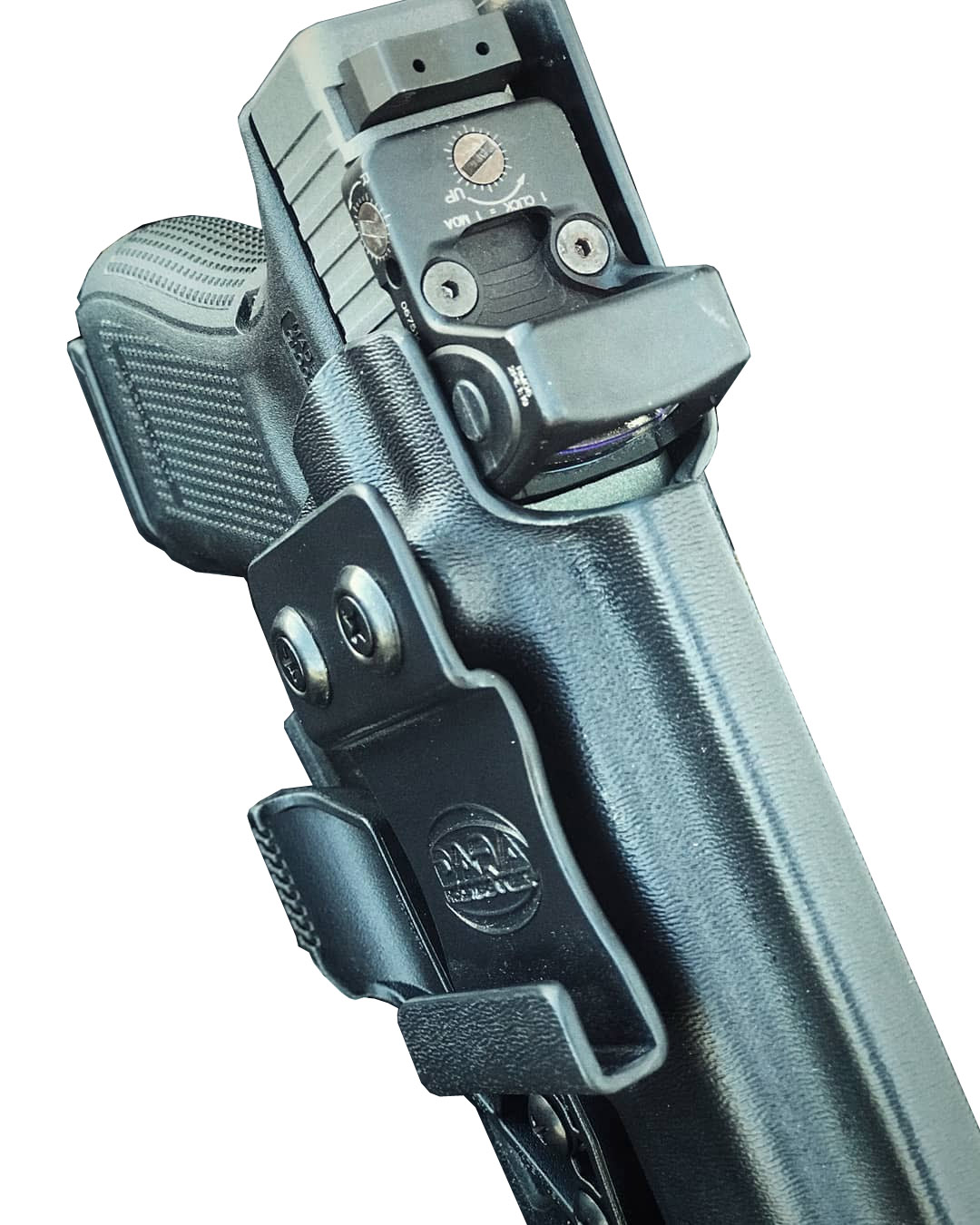 As you can see in the picture above, the body side has a full sweat shield to prevent discomfort when carrying, and the material wraps around the base of the optic to protect it from sweat, grit, dirt, etc.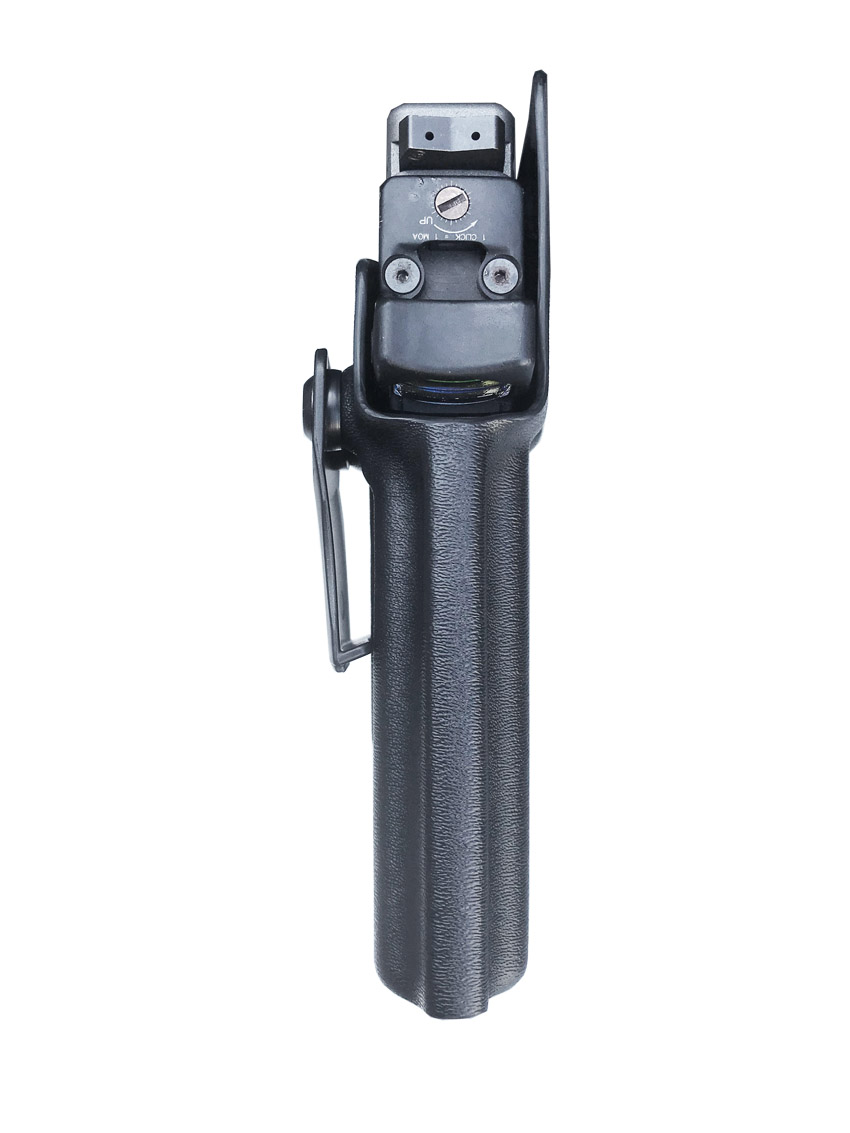 Our sweatshield it slightly tapered for comfortable re-holstering, keeping the body away from the gun when inserting the pistol. This feature sets our holsters apart, making them comfortable enough for all day carry in any position.
Other features included with our IWB Holsters:
-Each holster is molded precisely to the specific firearm for a perfect fit everytime. For the best fit, if you have a custom slide cut job, please send us a picture of how your optic is mounted. If the optic is mounted further down the slide than is normal, the holster may not be cut far enough to allow the gun to fully seat.
-Every IWB Holster comes with an adjustable Military grade Rubber Retention System. This system is designed by us for use specifically with our holsters. This retention system is designed to hold the most minute adjustments, making this a truly custom holster.
- Our sight channel is also customizeable! Let us know if you've put suppressor height sights on your pistol that co witness with your optic. Neglecting to inform us will result in a holster that does not fit.
-All holsters fully cover the mag release button. If you have modified your pistol and put an after market extended mag release on, let us know so that we can properly accommodate you!
-We can accommodate compensated pistols, so long as the compensator's width does not exceed the width of the frame or slide.
-Have a threaded barrel? No problem. Just let us know!
Here are some IWB Holster options that will accommodate your red dot sight:
Outside the Waistband Options for Optic ready Pistols:
Any of the holsters listed above will be able to accommodate your Optic ready Pistol and any after market modifications you may have.

Please remember to let us know about all of your customizations, so that we can be sure and accommodate them.

Pew Pew Tactical Wrote up a nice article of the Top Pistol Red Dot Sights, here. But here are the basics:
#1 choice: Trijicon RMR
From Trijicon:
The RMR Type 2 is designed with a patented housing shape that absorbs impacts and diverts stresses away from the lens to increase durability. It also offers redesigned and upgraded electronics that have been proven to perform when mounted on slide ride pistols and other small arms. It's suitable for military, law enforcement, concealed carry self-defense, target shooting, and hunting applications.
The RMR® Type 2 Adjustable LED sight puts the illumination control in the user's hands. Easy-to-use buttons on the sides of the optic allow the user to adjust the illumination brightness, toggle between manual and automatic modes, and power down the RMR for storage. The automatic mode functions the same as the LED RMR version. If a manual mode has been chosen, the RMR will remain in manual mode for 16.5 hours following the last push of a button. After 16.5 hours, the optic will default back to the automatic mode so that the RMR will be ready for your next mission or task. All RMR Type 2 Adjustable LED sights are compatible with night vision devices, with the 3.25 MOA dot size being the most popular. Additionally, the user can also lock out the buttons so that the RMR functions in automatic mode only. This ensures that inadvertent button pushes do not cause a loss of aiming solution.

The 3.25 MOA dot in the RM06 is the most versatile and popular of all RMR dot sizes. The dot is small enough to allow accurate shooting at range while also being big enough to locate quickly.
The Trijicon RM06 type 2 red dot is the #1 pistol red dot sight.
#2 choice: Leupold Delta Point Pro
From Leupold:
The DeltaPoint Pro is proof that you don't have to compromise performance, even on a small sight. It's incredibly wide field-of-view and crystal-clear glass dominates the competition, while it's rugged aluminum housing and steal sheath ensure it will perform in the harshest conditions. Ease-of-use was also a focus when designing this elite red dot sight, which is why we put an easy access battery compartment on top and gave it click-adjustments for more precision. And this isn't just as a pistol sight either; the DP Pro is just at home on AR's, shotguns, and pretty much anything else that goes bang.

Proprietary MST (Motion Sensor Technology) automatically deactivates illumination after 5 minutes of inactivity, yet reactivates instantly as soon as any movement is detected.

The Deltapoint locking adjustment system features two screws that lock in windage and elevation adjustments, meaning your reticle won't wander under heavy recoil or extended fire. 120-MOA of adjustment room allows for precision changes so you can dial in your target with guaranteed accuracy.

Absolute waterproof and fog-proof integrity – each is ready for a lifetime in the field, in all conditions.
Single Stack Red Dot Sight
If you carry a single stack pistol, and want to up your Glock game, we highly recommend the RMS Shield.