We are the industry leaders for high quality competition holsters and gear, raising the bar since 2012 with our intuitive competition ejection port cut and fast, streamline design. Our holsters are adjustable to your draw stroke and built to outlast the competition. Learn more below...

Made from .093" thick purpose blended polymers, the Action Sport Holster first hit the market after high demand in 2012. Right away, this holster was a hit. Not only did we offer the competition holster in a superior material, but we offered the design for more firearms than any other company. Offering over 400 options for both light bearing and non light bearing variants, the Action Sport Holster got the attention of many firearm manufacturers as we were the only company to offer support for the less popular models.
Ejection Port Speed Cut Style
Our Action Sport Holster offers two different ejection port cut styles.
Ejection Port cut "A"
Cut "A" is the most popular cut style, intended for a recreational use for range trips and training. This cut has both the top and side of the ejection port exposed. Most pictures on the website will show this cut out style, and this cut is legal for most competitions.
Ejection Port cut "B"
Cut "B" was born out of necessity when we were approached by an IDPA Grand Master that needed a holster for his hard to find single stack 1911. The match he was competing in required the ejection port side to be covered, but allowed for the top to be open. Thus, cut "B" was created. For an illustration of the two cut styles side-by-side, please see the diagram below:
Both of these cut styles will accommodate any slide mounted red dot optic.
Suppressor Ready and Optic Ready Models
The Action Sport Holsters allow for customizations such as taller co-witness sights and threaded barrels. As many popular competition ready pistols now come with the ability to mount an optic or attach a compensator, we have added coverage options for these parts.
If your pistol has an optic and taller co-witness, please check "yes" on the order form next to the option for Suppressor Height Sights. Even if your pistol comes stock with these options, it's best to check "yes", just in case the mold we are using is not the tactical or OSP variant, or if the drop down menu doesn't specify those details.
If you have a threaded barrel, you will have the option for the thread protector to be covered or left exposed. If you choose "covered" your muzzle end will look like this:
If you choose Exposed, your muzzle will look like this:
Compensators & Muzzle Breaks
For most firearms we can accommodate most compensators. As long as the comp does not exceed the external dimensions of the firearm's slide/frame, we are able to make a holster to accept it. You do have the option to have your comp covered like the picture below:
If the comp is something that you don't always have on your firearm, we recommend opting to keep the compensator exposed at the bottom, similar to this:
If you have a rail mounted accessory, such as the matchweight, we will not be able to accommodate that within our holster. For a full list of firearms and light/laser options, see our Full Firearms List here.
Competition Holster Retention
Our Action Sport Competition Holster features adjustable retention held in the trigger guard area. This retention is completely adjustable and able to hold very minute adjustments for a truly custom experience. For non light bearing competition holsters, your firearm will slide easily into the holster with a strong, audible "click" when the gun is fully seated. For light bearing models, as there is no longer a defined trigger guard area to produce this click, there will still be a retention point, however you won't hear the click as much as you will feel the holster click into place. This is simply due to the external dimensions of the gun and light and how it interacts with the holster.
These holsters come with a factory set retention, however if you need to loosen or tighten the holding, simply adjust in quarter turn increments with a Philips Head Screwdriver. Every quarter turn, be sure to recheck the resistance. If you have more than one retention set, please adjust both points equally.
After finding your desired tension, we do recommend using thread locker to lock the hardware in place. As this hardware is adjustable, rigorous physical activity will eventually cause the screws to loosen over time. Please be sure to check all hardware before using the holster.
Drop Offset Attachments
Our Drop Offset Action Sport Holster is the same Action Sport Holster most competitor's know and love, but with added flair. The Drop attachment fixes the holster to the double loop belt attachment and allows you to drop your competition holster lower for a more natural draw stroke. The drop attachment and double belt loop allows you to further adjust your ride height and cant angle for a full range of custom draw options.
Please note that our Holsters feature a proprietary hole pattern and will only match up with our own attachments. This allows us to ensure that the holster functions at the highest level and remains a strong piece of equipment that can withstand the rigors of run and gunning.
Please note: the drop attachment is not IDPA legal for men, only for women. It is legal in all other matches/divisions.
Double Loop Belt Attachment
Our Competition Holster comes standard with a Double Loop Belt System. This belt loop system is the most stable option for competition holsters on the market. With two points of contact to the belt and three points of contact to the holster, the double loop system can support the weight of even the largest steel framed pistols, fully loaded.
When participating in competitive shooting any capacity, your competition holster needs to be stable and reliable, always positioned for a fast draw or easy re-holster. The Double Loop does just that, allowing you to position the holster to match your muscle memory.
Optional Leg Strap
Our Drop Offset Competition Holsters come with an optional leg strap for added stability. The leg strap is made from a single layer of 1" thick nylon webbing. This strap is an adjustable one size fits all configuration. If a larger strap is needed, please reach out to us to have one custom made. This strap fastens with a small, non-obtrusive plastic buckle.
The leg strap is not IDPA legal, however it is easily removed, as well as the entire drop offset which is also not legal for men in IDPA matches. The drop is easily removed as well, with a Philip's head screwdriver. The competition holster simply reattaches to the Double Loop.
The Leg strap attaches to the bottom of the drop offset attachment,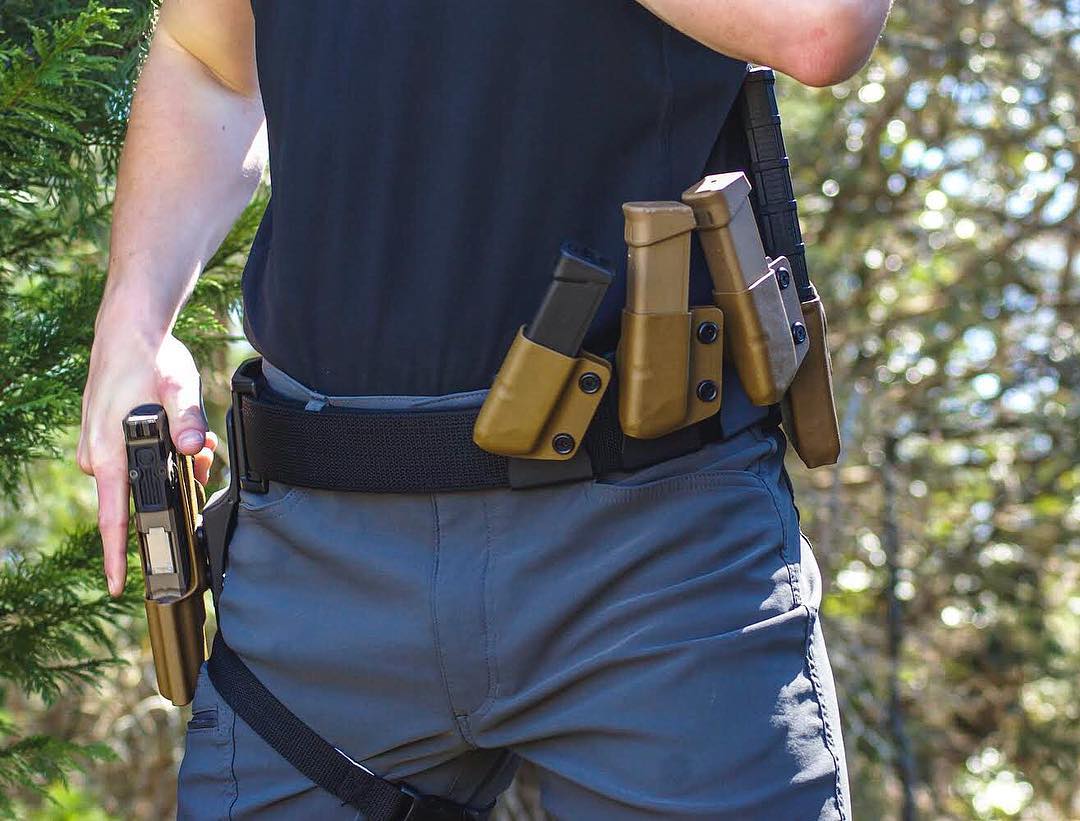 For any additional information or product-specific questions, please don't hesitate to reach out to our Customer Support staff. They are here to help you!
Click here to send us an e-mail.
Recent Posts
Checkout this quick video showing you how to install the DM1 Molle Attachment. The DM1 Molle Attac …

Checkout one of our latest videos addressing a common question: What is thread locker? We off …

Whenever we post a video of the ALQD we often get asked, by new shooters in earnest or by online …