Published by Dara Holsters on 8th Oct 2020
Check out our Holster Options for the Springfield XDM Elite series with the Streamlight TLR-1.
The polymer platform that broke the mold is now built around the all new META™ trigger for the ultimate performance in a striker-fired firearm. Further enhanced with removable magwell, increased capacity of 22+1 (20+1 with short magwell models) and improved slide serrations, the new XD-M® Elite represents the pinnacle of full-size, polymer-framed pistol design.
Featuring the META™ (Match Enhanced Trigger Assembly) system, the XD-M Elite trigger sports a flat face, crisp break and integral overtravel stop that combine to deliver the best trigger in a factory polymer-framed pistol available on the market.
The XD-M® Elite has superior ergonomics, reliable performance, and features that make it easy and intuitive to use. Upgrades like an extended and flared magwell, ambi slide stop and enhanced slide serrations make the Elite a must-have option. It's also got a whopping 22+1 capacity (20+1 with the "short" magwell).
FIVE ELITE MODELS

One platform to fit any need? The new XD-M® Elite is made up
of five models that are designed to fit practically any role you might
have for them. From full-size competition models to suppressor-ready
versions to standard- and concealed carry-sized variants,
the XD-M® Elite has you covered.
AMBI SLIDE STOP

The Elite sports an ambidextrous slide stop for both left- and right-handed shooters.

IMPROVED SLIDE SERRATIONS

The Elite's redesigned slide serrations give you larger and enhanced grasping grooves for even better purchase.

EXTENDED MAGAZINE

The XD-M® Elite features increased-capacity magazines for unrivaled round counts of up to 22+1.

REMOVABLE MAGWELL

The XD-M® Elite series comes with removable standard or short magwells for intuitive mag changes.

MATCH GRADE BARREL

The XD-M® Elite hammer-forged barrel is designed to deliver long life and match-grade accuracy.

LOADED CHAMBER INDICATOR

The Elite's loaded chamber indicator is designed as both a visual and tactile indicator of the pistol's status.
At Dara Holsters, all of our XDM Holsters are now made with the Elite version, meaning any after market or stock controls will fit our holsters. Suppressor height sights, optics and threaded barrels are all accommodated for.
If you prefer your threaded barrel covered, please order the next size up. See below: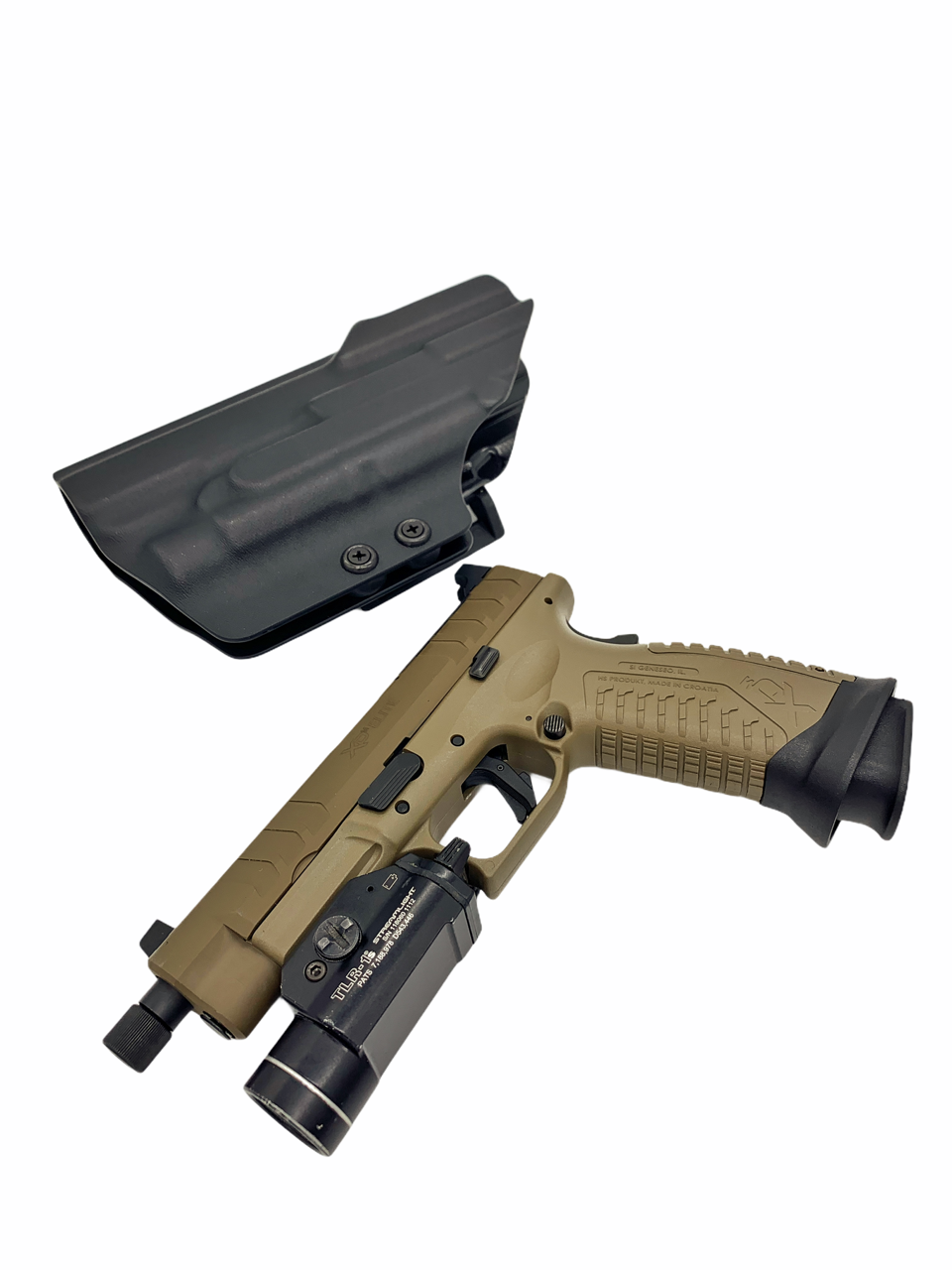 If you have an XDM 4.5" Elite and want your threaded barrel covered, please order the XDM 5.25" shown here: