Published by Dara Holsters on 17th Jul 2018
Introducing our new Inner/Outer belts, custom made for us by TacBeltz.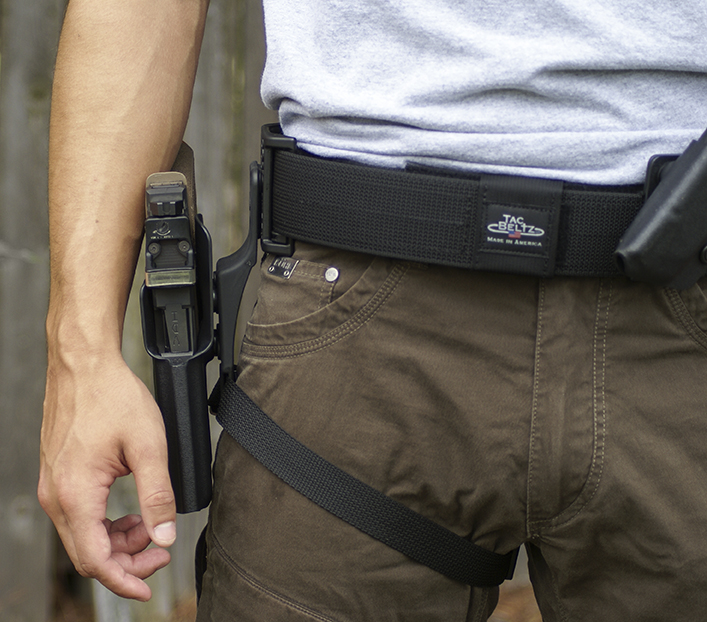 This competition belt is the brain child of Dara Holsters' competitive shooting experience and TacBeltz skill, made right here in America using only the toughest materials. The idea for a competition belt had been tossed around for months before a prototype was tested, and almost a year of R&D later we're ready to bring this rig to market.
Quality, American made gear is hard enough to find as it is. But once you find it you're left paying the price- literally. Competition belts made in the US can sometimes run about $100, and most often you have to buy inner and outer belts separately. But no longer.
We've designed a belt that meets all of the industry standards- then exceeds them. All for $57.99.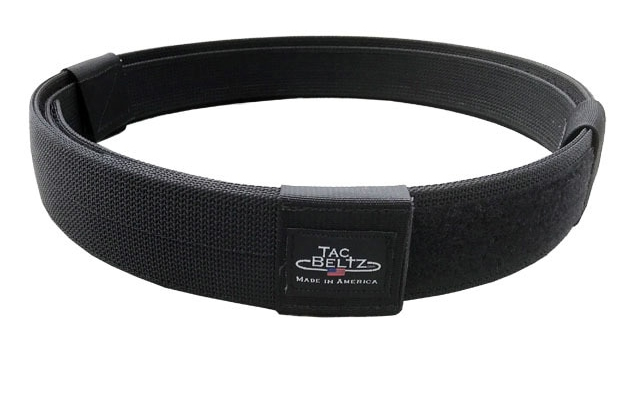 Featuring a 1.5" single layer inner belt made of 1000 denier black nylon and wrapped in Velcro®. This slim belt is comfortable for use between matches, but rugged enough to keep pace with it's larger counterpart: the outer belt. The inner belt is smaller than the outer belt, so that you can quickly throw the outer belt on without taking too much time lining up the belts. With a smaller inner belt, the 2" outer belt covers the inner belt entirely, allowing you to focus on the next match.
The outer belt is made with a double layer of 2" wide nylon. The buckle, a slim no nonsense Velcro® design attached to the end of the outer layer, wraps around both the top and bottom of both inner and outer belts. The buckle was intentionally designed to be located at the end of the outer belt to ensure that no part of the belt comes undone, irritating the user during a match. There's few things more irritating than the floppy end of some cheap nylon belt curling outwards and scratching the hell out of your arm whenever you reach for your mags.
The buckle also offers a convenient solution for quick gear changes between matches. No longer do you have to take off a traditional belt buckle to switch out your gear. Simply undo the Velcro® and slide your holster and mag carriers onto the outer belt.
The whole rig comes in one package, along with 2 nylon belt keepers, all for $57.99.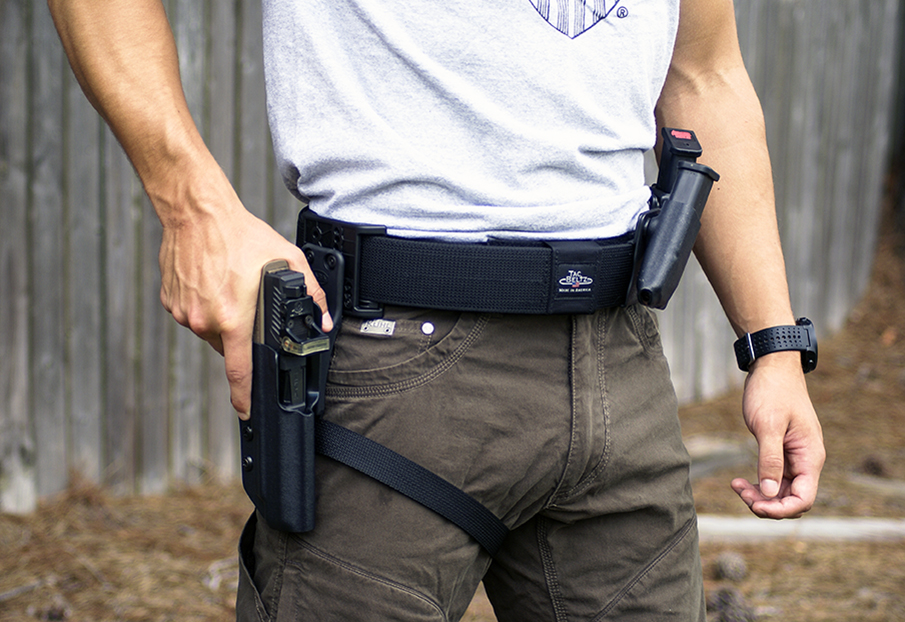 This rig is 100% made in the USA in Washington by TacBeltz. This is the same company who makes our 1.5" Dual Layer Nylon Tacbelt- one of our best selling EDC products. This everyday belt is made from two layers of 1.5" nylon, with a low profile Velcro® buckle, similar to the new Inner/Outer Belt buckle design.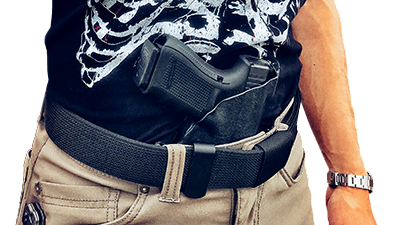 The TacBelt is taking the industry by storm with is simplistic design and extremely competitive price. You simply can't beat quality American made gear that's built to last like the TacBelt.
Interested in our new Inner / Outer belt? Update your other Competition gear too. Check out our OWB Competition Mag Carriers- featuring an adjustable cat angle and adjustable retention. These mag pouches are precisely molded to your exact magazine model and hold like nothing else on the market.
The best featuring of these mags- aside from their perfect fit of course- is the ability to adjust your cant angle. This allows you to angle the magazine in a way that's conducive to faster reloads, making the magazine more easily accessible for quick mag changes.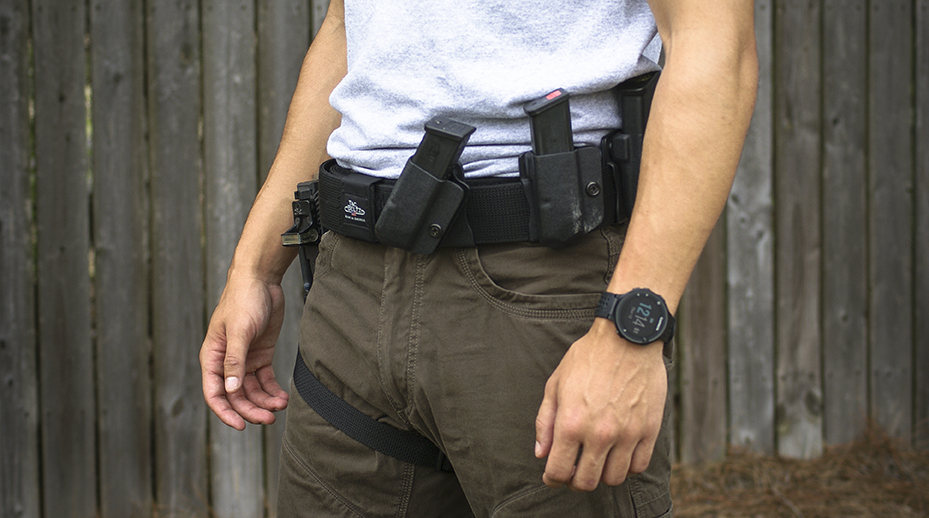 Another much needed gear upgrade, is our Drop Offset Action Sport Holster. This rugged build has two points of contact to the belt, three points of contact to the holster and another point of contact to the leg with our optional thigh strap. This is hands down the best Drop Offset Holster on the market- built with premium thickness .093" material to withstand anything the match director throws at you. If you're a serious shooter, you need a holster that trains just as hard as you do.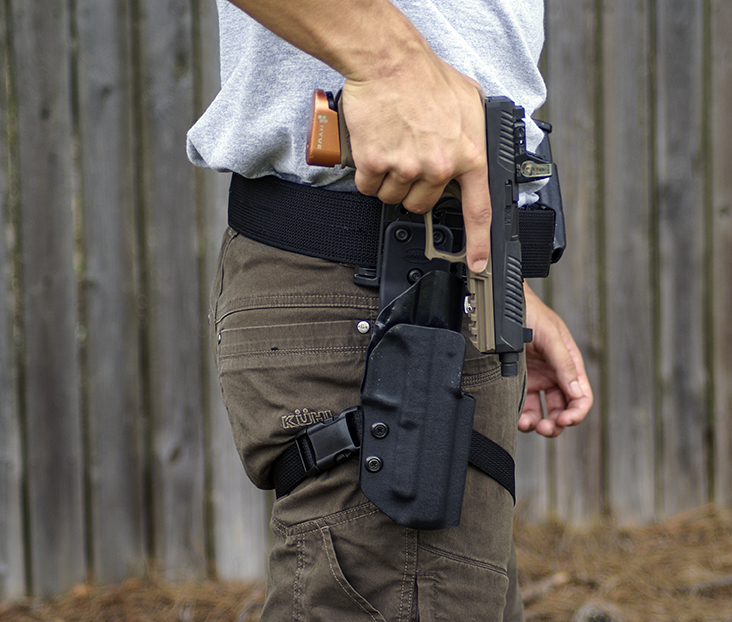 This holster is built for a quick draw and faster target acquisition, featuring two ejection port cut styles intended for either recreational or competitive use. Choose cut "A" for a badass range holster with both the top and side of the ejection port exposed, or cut "B" for IDPA style competitions, keeping the side of the ejection port covered. Both cuts extend no further than 1/4" past the bottom of the ejection port.
For more information about the drop offset or Action Sport Holster, check out our Competition Gear page.
Questions, Comments? Sound off in the comments below!