Published by Dara Holsters on 29th Jul 2020
Our Action Sport Holster for the Sig Sauer P226 is the BEST Competition Holster on the Market. Here's why...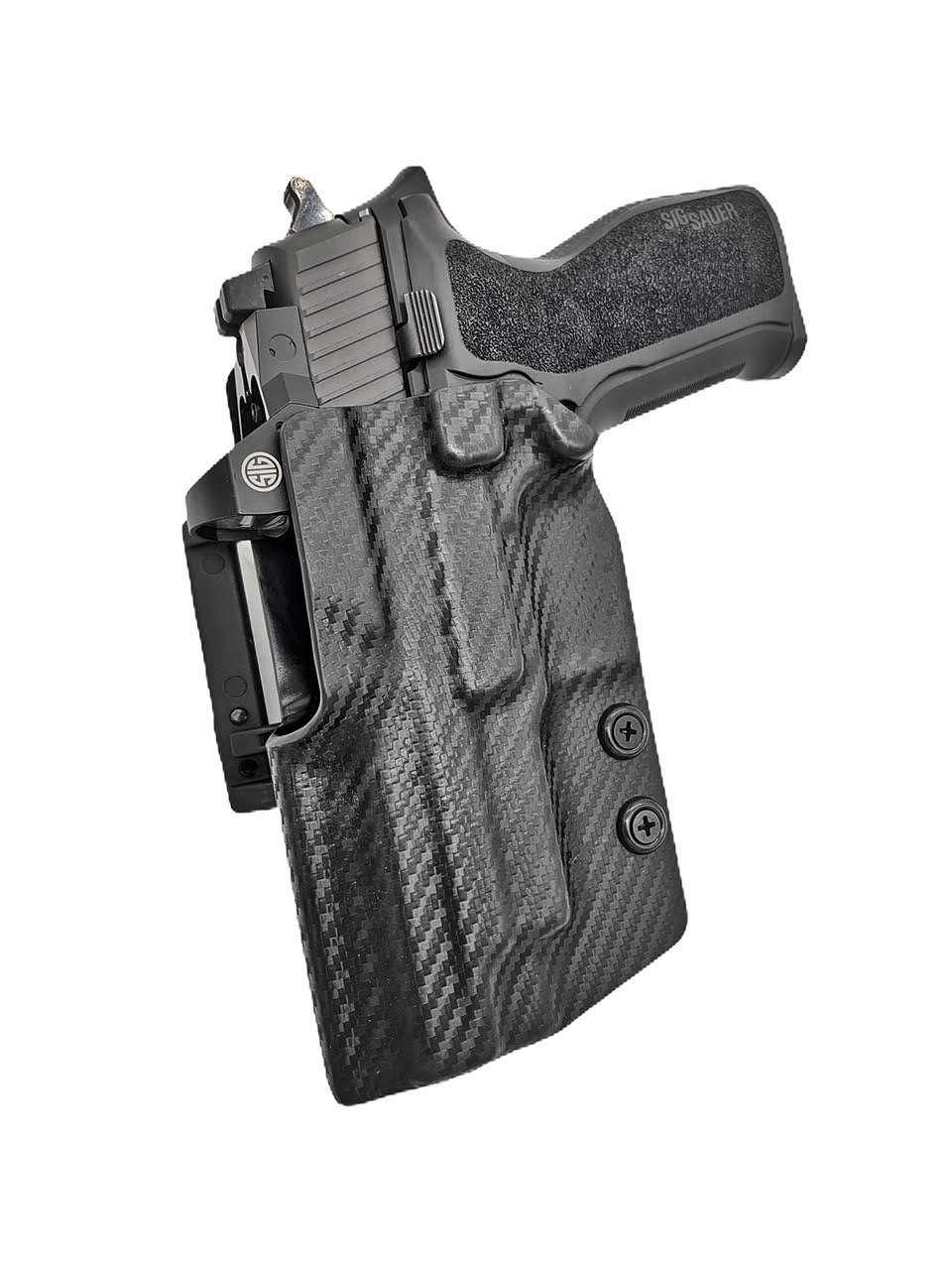 Our Action Sport Holster for the Sig P226 is made from .093" thick purpose blended polymer and fastened with blackened hardened steel hardware. Equipped with a Military grade Adjustable Rubber Retention System and adjustable Double Loop Belt System, this holster is fully adjustable to your practiced drawstroke.
The Double Loop Belt System allows adjustment for everyday carry belts (1.5" in width) to tactical belts (1.75" in width) and up to 2.25" that most Duty Belts measure. The Double Loop also allows the user to adjust the holster to a 15° forward cant, 15° reverse cant or adapt to our Drop Offset System.
The Double Loop has two points of contact to the belt and three points of contact to the holster, offering the stability and dependability that comes standard with the Dara name.
Our Action Sport Holster features two ejection port cut options:
Cut "A" is the top and side of the ejection port cut away. This cut style is suitable for range use, everyday use, USPSA, IPSC and 3 gun matches. Most competitive shooters will be just fine with Cut "A".
Cut "B" is the top of the ejection port cut away with the side of the ejection port covered. This cut is for IDPA matches where the rules require the side of the ejection port to be covered, such as the single stack 1911 division. If you are unsure of the cut style you need, it's better to be safe than sorry. Choose Cut "B" if you're unsure, as it is legal in all competitions and divisions.
BOTH cuts extend no further than 1/4" past the bottom of the ejection port. BOTH cuts accommodate most RDS Optics.
Our Action Sport Holster is customizeable in the following ways...
Suppressor Height / Co-Witness Sights
On the Action Sport Holster order form we asks about several customizeable aspects of your firearm. We don't necessarily need to know if you have an optic mounted to your slide, as both ejection port cut styles allow for optics, but we do ask about suppressor height sights. Our standard sight channel height is about .25" so if your firearm has co-witness sights, or is the Tactical variant, you'll need to check 'yes' for suppressor height sights. If you neglect to check "yes" and your pistol has a taller front sight, the holster will not fit.
Threaded Barrels/Thread Protectors
If your pistol has a threaded barrel and/or thread protector, we offer two options for the holster's muzzle coverage. In most circumstances we allow the choice of a covered threaded barrel- the holster will accommodate the thread protector within the holster -or- we will leave the end of the holster open for the thread protector to pass through.
Examples:
| | |
| --- | --- |
| Thread Protector Covered: | Thread Protector Exposed: |
Compensators
If your pistol has a compensator, we can most likely offer the same covered/exposed options as we do for the threaded barrel/thread protector. However, if your firearm is on the larger end of the spectrum, such as the Glock 40 MOS, we are unable to cover any extensions.
If you do have a compensator, please ensure that the comp dimensions do not in any way exceed the dimensions of your slide/frame other than length. If your comp is wider or taller than your slide/frame it won't fit through the holster. Don't try it anyways. It won't work.
If your comp mounts to your accessory rail, we cannot accommodate it.
Lights/Lasers
If your firearm has a tac light or laser, we are able to accommodate certain configurations. While we do make custom Holsters, we are limited to our listed firearms. We cannot make a holster if we do not have the mold for it.
If you have a light/laser, you need to use the Light bearing Action Sport Holster order form.
Extended Controls
If your firearm has extended magazine release buttons, extended slide locks, or any other extended controls, please let us know on the order form.
Our competition holster already has certain extended controls accommodated for but as there are so many options on the market, we still need to know about any modifications you've made to your competition gun.
Firearm Models Not Listed/ Different Variants
If your exact model is not listed on our drop down menu, please contact us prior to ordering. While we can accommodate a lot of variants using the same holster mold, certain models will require extensive modifications. For example, The P-01 and the P-01 Omega version are compatible, but certain modifications need to be made before making the holster.
Another example is the P320 XCarry/XCompact/Compact. The XCarry will accommodate the XCompact, although it is slightly longer, but the P320 Compact won't work with the XCompact and vice versa. Please make sure the gun you're ordering for is the exact model you have.
Lifetime Warranty
All of our products are backed with a Full No BS Lifetime Warranty. If anything happens to your competition holster, simply call us and we'll fix or replace the holster for free- no questions asked.