Published by Dara Holsters on 22nd Jul 2020
Check out the most versatile, non-invasive holster mounting option: The Tough-Claw Holster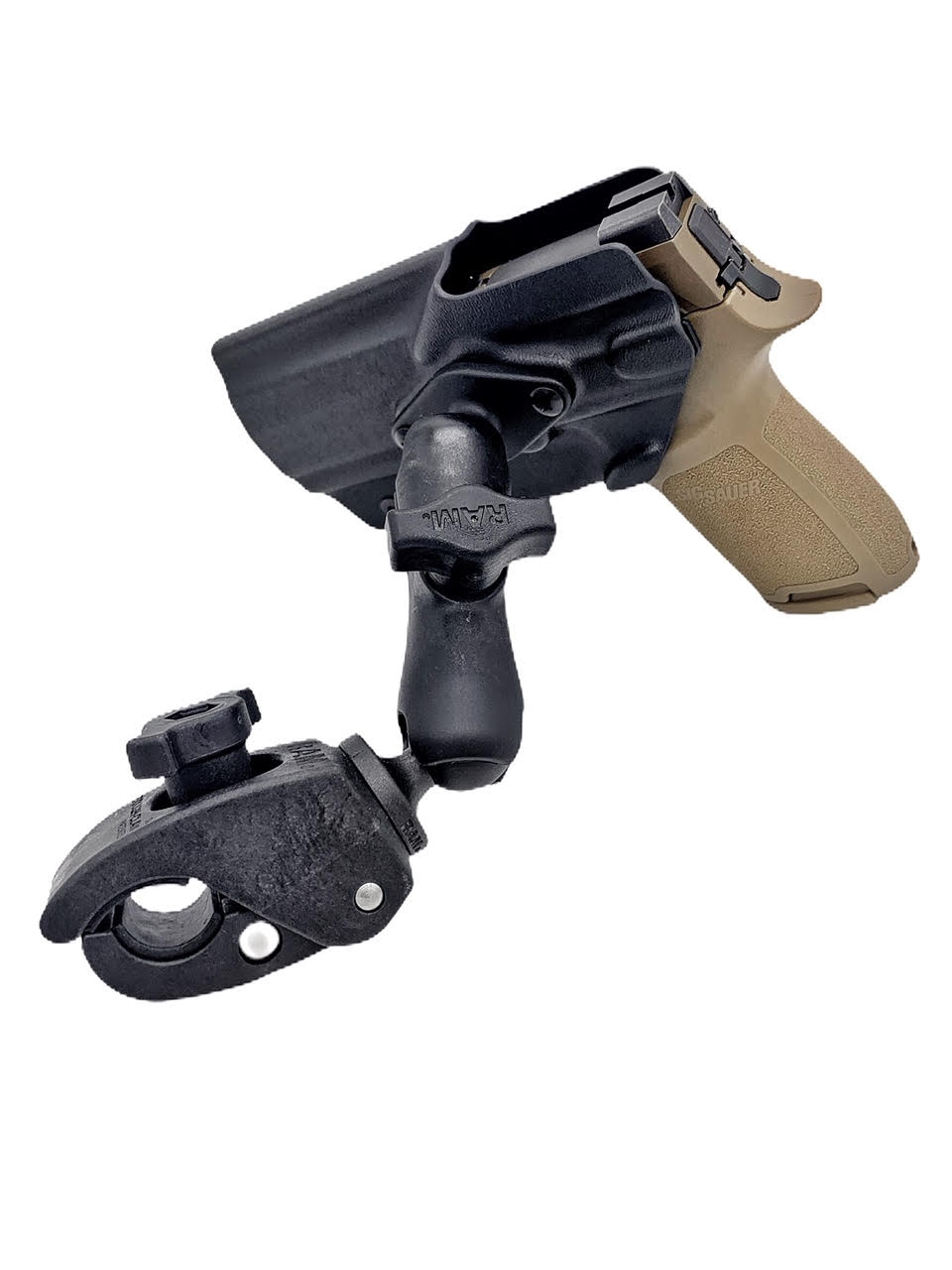 FEATURES
Small version designed to quickly clamp to round, square, and odd-shaped rails and bars ranging from .625" to 1.5" in outer diameter; rubber pads provide stable gripping and protection of mounting surface
Ideal mounting base for phones, tablets, cameras, rod holders, and much more; includes 1" B size rubber ball for attachment to RAM® double socket arms
Made of high-strength composite and stainless steel hardware for durability and reliability in the most demanding environments
Backed by a lifetime warranty
The RAM® Tough-Claw™ is the perfect mounting base for toolless installation and removal on round, square, and odd-shaped rails and bars. The small version of the RAM® Tough-Claw™ can quickly be clamped on rails ranging from .625" to 1.5" in outer diameter and is ideal for mounting phones, tablets, action cameras, rod holders, and much more in a wide variety of applications. Perfectly suited for mounting on the yoke of an aircraft, handlebars of bicycles and motorcycles, or even on kayak rails and roll bars, the RAM® Tough-Claw™ will soon become another essential RAM® component in your collection.
PRODUCT DIMENSIONS
Overall Height: 4.24"
Overall Width: 1.18"
CLAMP RANGE
.625" - 1.5" diameter
BALL/SOCKET SIZE
B Size (1")
WEIGHT CAPACITY
2 lbs
WEIGHT
0.35 lbs.
The Tough Claw Holste clamps onto any railing with an outer diameter of .625" - 1.5". This holster is a convenient, non-invasive mounting solution for any concealed carry or home defense firearm. Most commonly mounted to the driver's seat rail, this holster can also be mounted to table legs, boat railings, ATV steering, motorcycle handles, and many more.
The Tough Claw Holster comes with 3 pieces:
-Holster with 1" mounting ball
-Claw with 1" mounting ball
- 2.5" socket arm
The overall length of the Tough Claw Holster from holster to clamp is approx. 6.5".