Published by Dana on 13th Apr 2016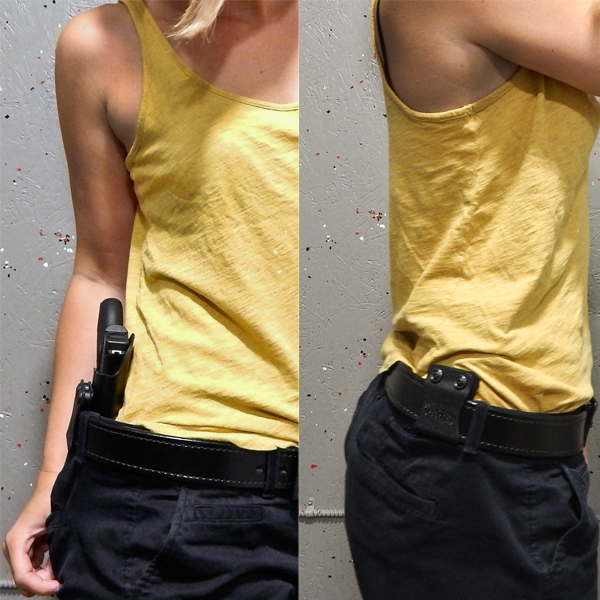 Lately I've been seeing a lot of interest in concealed carry from women. Whether it be husbands posting questions on behalf of their wives in the forums or women, themselves, posting their own questions. I think it's very cool to have so many women interested in carrying a firearm and taking self defense into their own hands.
A lot of the questions seem to be about how to carry the firearm. While there are many options for holsters and bags specifically designed for women, you'll want to first decide what best suits your lifestyle. I will never recommend off body carry. I think that should be your last resort, so you won't be hearing of any concealed carry purse recommendations from me. A quick google search will tell you why.
There are many other holster options for women, such as the corset holsters, the bra holsters and even underwear holsters. To me, those type of holsters all have their uses, but I will never use any of them. I'll tell you why: according to this article "Nearly 30 percent of applicants for CCW permits are women. Many are mothers with small children." I, myself, have two small children and often find myself crawling around on the floor being attacked by a 6 year old batman. Therefore, due to my active and hands-on lifestyle, I chose a holster accordingly. I needed a holster that could hold my firearm tight in the holster, even when I'm doing cartwheels with my daughter in the backyard. Not something holding my firearm by a piece of elastic material with no positive retention. So this is what I have: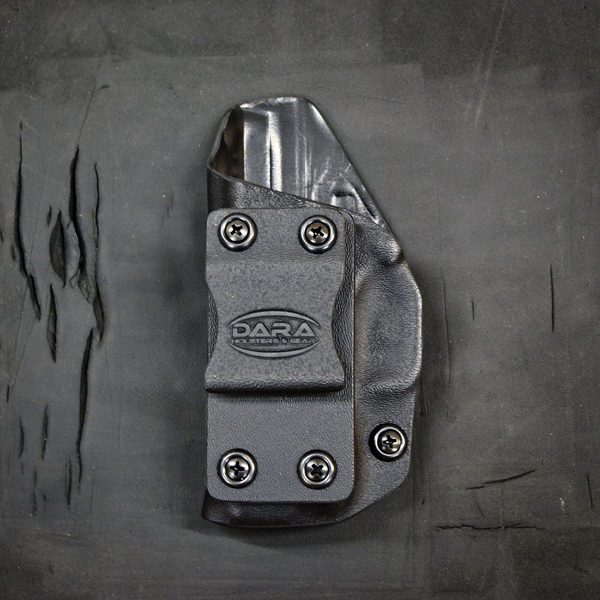 I carry a number of single stack 9mm pistols, including: the Glock 43, Walther PPS M2, S&W Shield, and the Keltec PF9. These are all ideal for women to carry due to their smaller size. The holster shown above is for the Glock 43. It's made from .093" Black Boltaron (anything you order in black from Dara Holsters is Boltaron). The retention is completely adjustable and everything important is covered, safeties (if applicable) magazine releases, trigger, etc.
Here is what the tuckable holster looks like on and in different positions: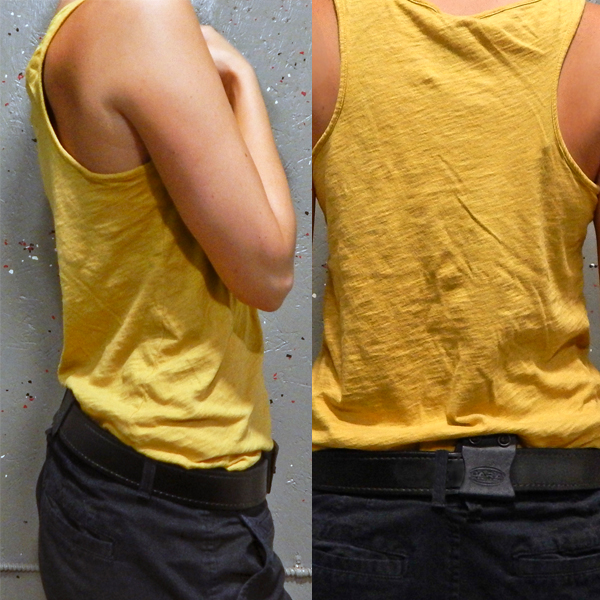 I chose the tuckable IWB Holster, because I like to tuck my shirt in sometimes. It makes me feel better about wearing a tank top, shorts and flip flops. As you can see I'm not wearing super tight clothing, that is something you just can't do while carrying, no matter what holster you have. You can still wear figure-flattering "form fitting" clothing, but painting on your outfit is no longer an option. You have to think about your priorities and what is more important to you.
Also, while we are on the topic of dressing around your gun and holster, let me just say: women's pants suck. They are literally the least functional garment ever. (You know, aside from covering your bum). The belt loops are ill placed and flimsy- if there even are belt loops! Sometimes there aren't belt loops... who does that?! Then we have pants that have really small belt loops that won't even fit a standard sized belt. That is something you'll also have to start wearing- a belt. It doesn't have to be some crazy tacticool nonsense, you can get a nice belt from Target that will work just fine. I know a lot of women don't like to wear belts, but if you're trying to carry, you just have to get over that. I strongly discourage anyone from carrying a firearm on the hip without a belt. Why risk it? If you ever have to draw, your belt attachment will have nothing to grab onto and the holster will come out with your gun. Not ideal.
Aside from choosing your firearm and the type of holster you want, there are other things you have to think about, such as choosing what position you want to carry in. I suggest carrying your firearm (unloaded of course!) around the house in different positions on the belt if that is how you intend to carry. I wear the tuckable holster in two different positions, at 5:30 o'clock and at 3:30. The holster has a straight cant angle and mid ride. This is what works best for me. I have wide hips, so 3 o'clock is no good. I can't carry the tuckable holster at the appendix since it's a bit bulky, I leave that spot for my AIWB Holster Rig.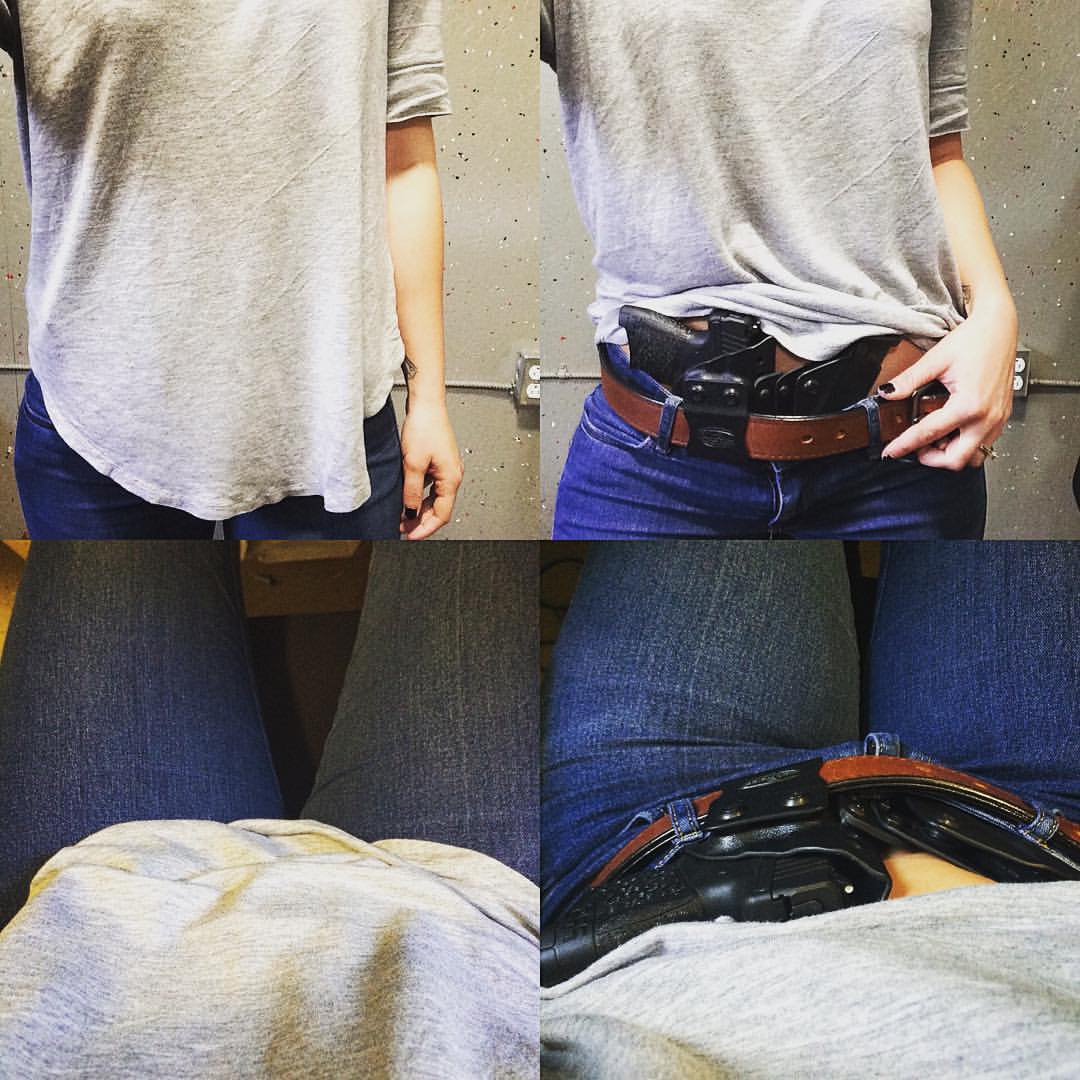 This thing looks big and intimidating, but it's really not. I also took this picture before I adjusted the ride height of the magazine carrier a bit lower, so if the magazine carrier looks really high here, it's because it is. The Rig comes with an AIWB Holster and an attached magazine carrier or "sidecar". The Mag Carrier can be adjusted up or down for comfort and concealment purposes, or taken off completely. This is what it looks like on a guy with the mag carrier lowered: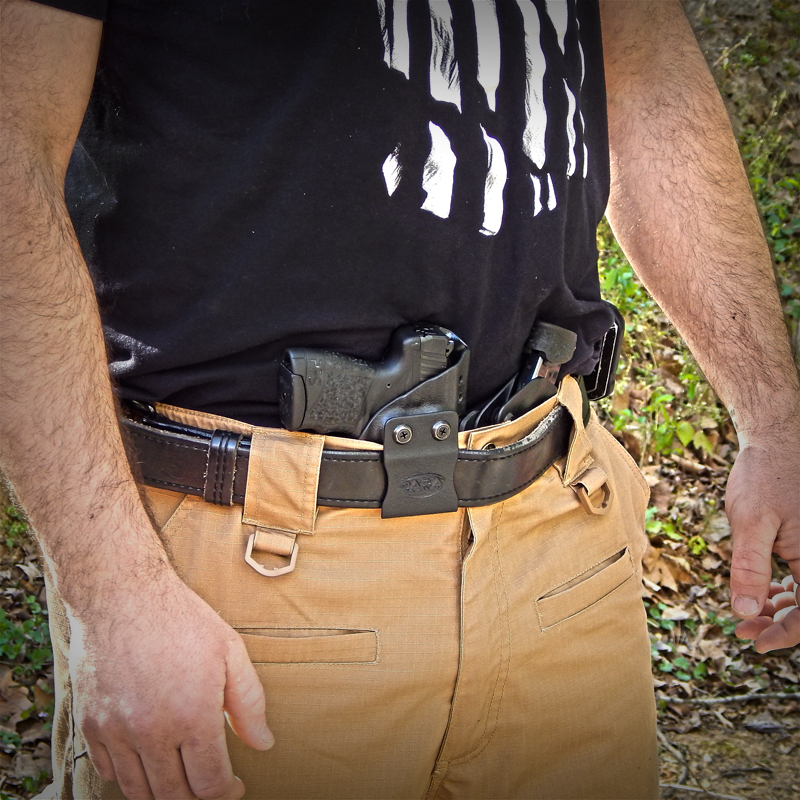 The whole Appendix Rig conceals really well as long as your shirt isn't skin tight. I'm wearing a medium sized slouchy long sleeve t-shirt from Victoria Secret here: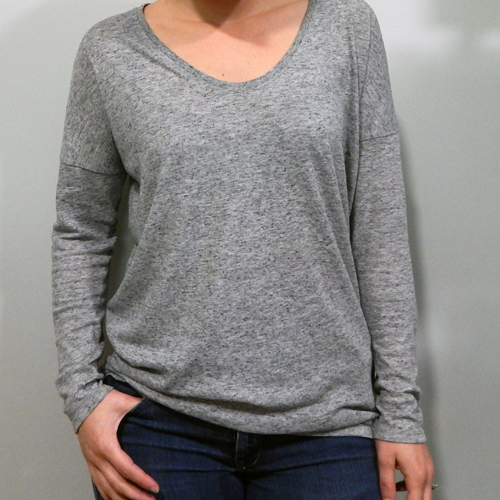 Once again, these holsters are what works for me and my lifestyle as a full time working mom. I have the luxury of not having to wear business clothing at work and also being able to actually carry a firearm to work. The key to being successful at carrying a concealed firearm is to find out what works best for you. Have safety be your first priority and go from there. If you have a fairly sedentary lifestyle and rolling around the floor during a nerf gun fight isn't part of your daily ritual, you may not need a holster as secure as what I have chosen. If you are one of those chicks that likes wearing yoga pants all the time, there are yoga pants with built in holsters. I don't know how that would work while actually doing yoga, but hey it's worth a try. Worst case scenario you have another pair of yoga pants.
Here are also some pictures of me wearing my other holsters, these pictures are without a belt (shameful) but they were just for a quick picture.