Our Drop Offset Competition Holster package is made for over 300 popular competition pistols such as the M&P9 Performance Center, Walther Q5 Match, Glock 19, 17 & 34, and more!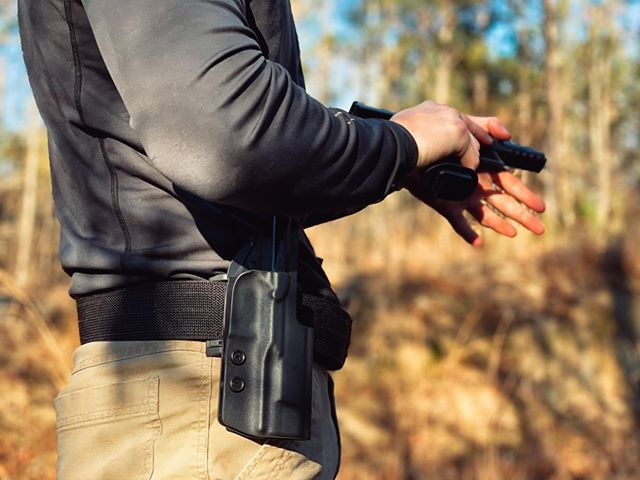 Our Drop Offset Action Sport Holster is the BEST option for any competitive shooter. The holster body is made from a .093" thick purpose blended polymer, shaped exactly to your competition gun.
Have an RDS optic sight? No problem. Our Action Sport Holsters are cut down to the bottom of the ejection port for speed, allowing any of the more popular red dot optics (such as Trijicon RMR, SRO, Delta Point Pro, Burris Fastfire, Vortex Venom, Sig Romeo, etc.) to fit comfortably within the holster when fully seated. Our custom option order form allows you to also select accommodations for cowtiness sights, as well as coverage for your threaded barrel and/or compensator.
Does your competition gun have extended controls such as extended mag releases, take down pins, etc.? That's not an issue with our holsters either. Just let us know about it and we'll build the holster to accommodate you free of charge.
Our Action Sport Holsters feature our patented Double Loop system that fully encircles the belt twice for extra stability. This belt loop offers a 6 - in - 1 adjustability system for customizing your cant angle and ride height, allowing you to adjust the holster for the perfect natural draw stroke.
The Double Loop system accommodates belt sizes 1.5" - 2.25" in .25" increments with locked in belt size adjusters. Altering the belt width does require the use of a screwdriver, but is easily done within seconds.
The retention on all of our Action Sport Holsters is adjustable from the factory. We send out all holster hardware torqued to 75 in/lbs to ensure all attachments are properly fastened.
Retention can be adjusted with a Philip's head screwdriver and set to your preferred resistence enhancing your draw stroke when seconds matter in a competition setting.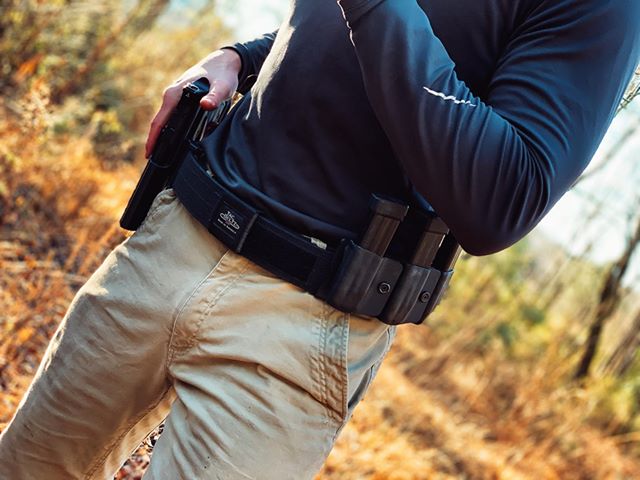 The Action Sport Holster Package shown above consists of 1 IDPA and USPSA Legal Competition Action Sport Holster, 1 Inner/Outer Belt Package and 3+ Mag Carriers.
Key Features:
Action Sport Holster: Offers two types of ejection port cut outs. Cut "A" is the top and side fo the ejection port cut away, Cut "B" is the top only cut away and the side of the ejection port covered. Cut "A" is legal for most competitions, while Cut "B" is required in others- like the Single Stack 1911 division. Retention is adjustable and the holster body is a rugged .093" thickness, necessary for competition.
Belt: Inner/Out Competition Belt consists of a 1.5" inner belt wrapped in female (soft loop) velcro. This belt goes through the pant belt loops as a regular belt would. When ready for competition, the 2" Dual Layer Outer Belt wraps around the inner belt outside of the loops. The Outer belt typically holds all of the comeptition gear, so that before or in between matches, you can take the load off and relax and then gear back up quickly by attaching the outer belt. This outer belt is made of 2 layers of 1000 denier nylon, durable enough to hold all the gear through vigorous physical activity.
Magazine Carriers: Your choice of 3 or more Mag Pouches, specifically made for your magazine model. These are not universal, one size fits all magazine carriers, they are specific to each mag. Carriers also come with your choice of bullets facing forward (most common) or bullets facing backwords. Attached to the mag carriers is a single 2" loop to fit on the outer belt.