Published by Dara Holsters on 27th May 2020
Action Sport Holster for the FN 509 Tactical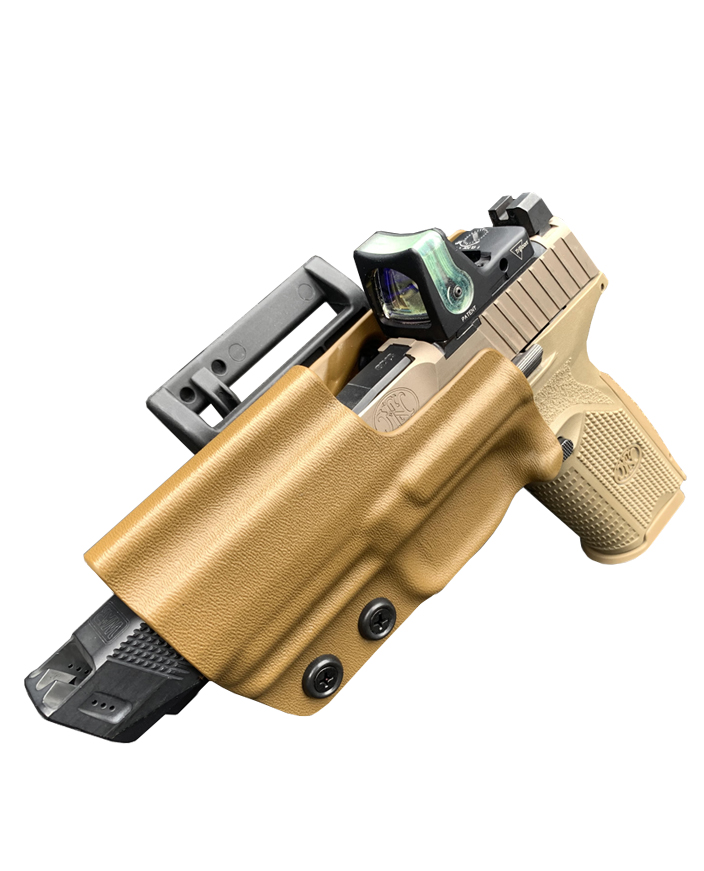 Features
Material
Robust body formed with .093" thick purpose blended polymers.
9 Color options: Black, Black Carbon Fiber Texture, Black Leather Texture, Coyote Brown, OD Green, Tungsten Grey and Arctic Grey.
Retention
Adjustable Military grade Rubber Retention System designed for use with our holsters, able to hold the most minute adjustments for a truly custom fit.
Holster is molded precisely to your exact firearm for the perfect fit.
Attachment
Our Action Sport Holster is attached to our Double Loop System. The Double Loop secures to the belt with two points of contact, offering stability and security.
The Double Loop allows you to adjust your ride height and cant angle for the perfect draw stroke.
Our Double Belt Loop System also allows you to switch from your everyday carry belt, to a 1.75" tactical belt, a 2" competition belt, and a 2.25" Duty Belt with ease.
Need a Drop Offset? No problem. The Double Loop attaches to our Drop System for a natural draw.
The Double Loop system will also be compatible with our Quick Disconnect System, dropping fall 2020.
Extended Features
Our holsters readily accommodate firearms with factory features, as well as extended controls such as slide locks, mag releases and threaded barrels.
If you need other accommodations made, please let us know.
If you have an optic ready firearm, we will automatically upgrade the sight channel for higher, suppressor height sights.
Muzzle
The muzzle end of our Action Sport Holster is cut to accept most threaded barrels/thread protectors and allow passage through the bottom of the holster. If you have a compensator, please let us know. We can either cover it or leave the end open. We cannot accommodate suppressors or compensators that dimensionally exceed the width or height of your frame or slide.
Cut Style
Our Action Sport Holster offers two cut styles to comply with various shooting associations.
Cut "A" is an open ejection port, with the side exposed. Commonly chosen for USPSA and range use.
Cut "B" is the top of the ejection port cut away and the side covered, commonly chosen for IDPA.
Both cut styles allows you to draw before fully clearing the holster.
Warranty
All of our holsters come with a full Lifetime Warranty. If anything breaks or becomes compromised- for whatever reason- we will fix or replace it for free.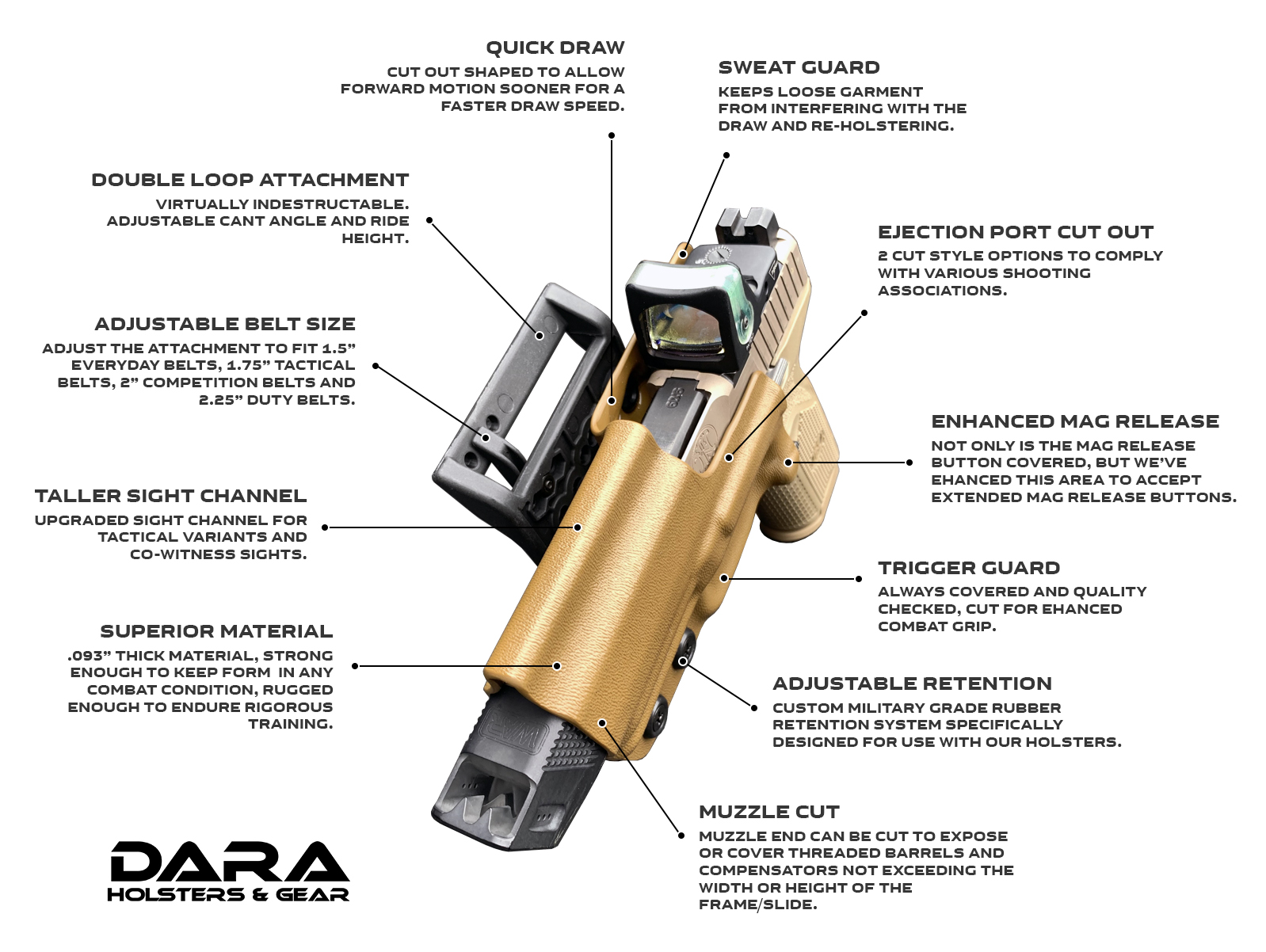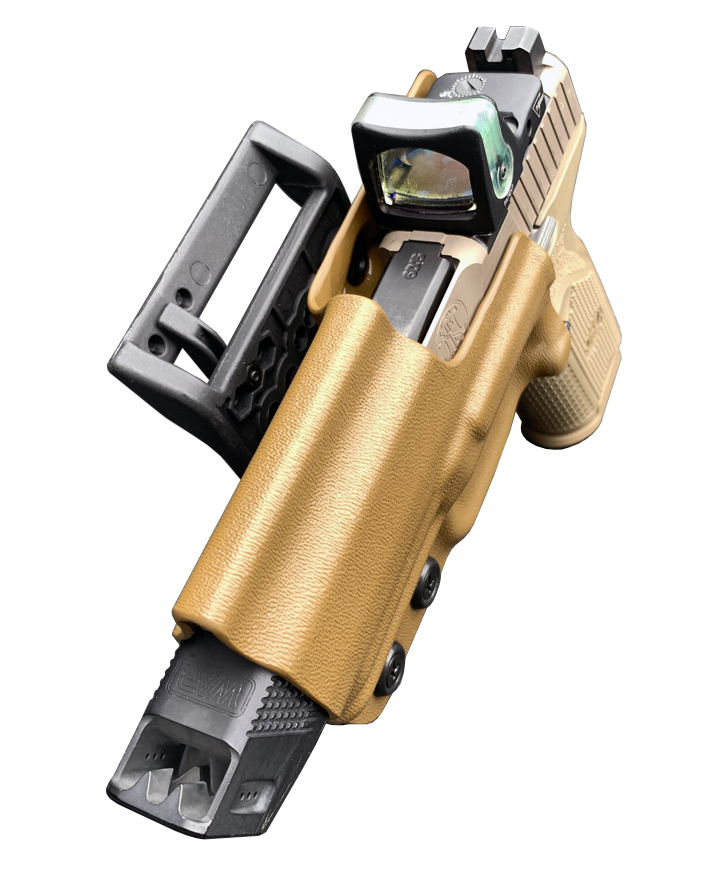 Firearm Details:
FN 509
Trijicon RM04
Apex Flat Trigger
Weapons Armament Research Compensator