Published by Dara Holsters on 16th Jul 2019
Ok, picture this... you're getting into your car to go somewhere, your ccw secured at your hip. You get in the driver's side, right arm reaching across your left shoulder to grab the seat belt. You buckle yourself in, ready to go. You start the ignition... but notice movement out of the corner of your eye in your right mirror. You turn your head to check it out, but it was fleeting and you missed it. So you turn your head around and see a man with a mask standing at your driver's side window with a gun.
Adrenaline starts pumping, you mentally calculate how long it would take you to draw from the holster at your 3 o'clock, currently secured under a tucked in shirt and locked in by your safety belt. You wonder if you could draw by the time the bad guy realizes what you're grabbing for. What are your odds?
There's a solution to this problem, one that would have completely eliminated the issue of an inaccessible firearm... the Mounted Vehicle Holster.
I know what half of you are thinking... that's illegal and if you got pulled over you're screwed. Well, it varies state to state, so you'll have to check your state gun laws regarding concealed or open carry in a vehicle. But for those that are legally allowed to open carry in a vehicle, this mounted holster system makes carrying so much easier and more comfortable.
Mounted Holster Features:
Holster can be made for over 350 firearm models.
Each holster is precisely molded to fit your exact firearm in either right or left hand draw. The edges of the holster are polished and rounded to as not to catch or snag on anything. The magazine release button is covered, as well as the trigger guard, and the rear sights are protected within the holster.
Have a slide mounted red dot? Suppressor height, co-witness sights? No problem. We can accommodate suppressor ready and optic ready models as well as light bearing variants.
Holster System is completely Modular
When you're about to leave your vehicle you can quickly detach the holster and gun to be stowed away in a locked glove compartment or center console. We highly recommend not leaving the gun in the holster while your vehicle is unoccupied. The holster detaches from each mounting system very easily and can be tucked away when you leave.
Works with most RAM Mounting System
While we offer 3 different mounting systems on our website, the holster comes with a 1" ball adapter that can be mounted to many different RAM Mounting systems that accept a 1" ball.
Here are the Holster Mounting Systems that we offer: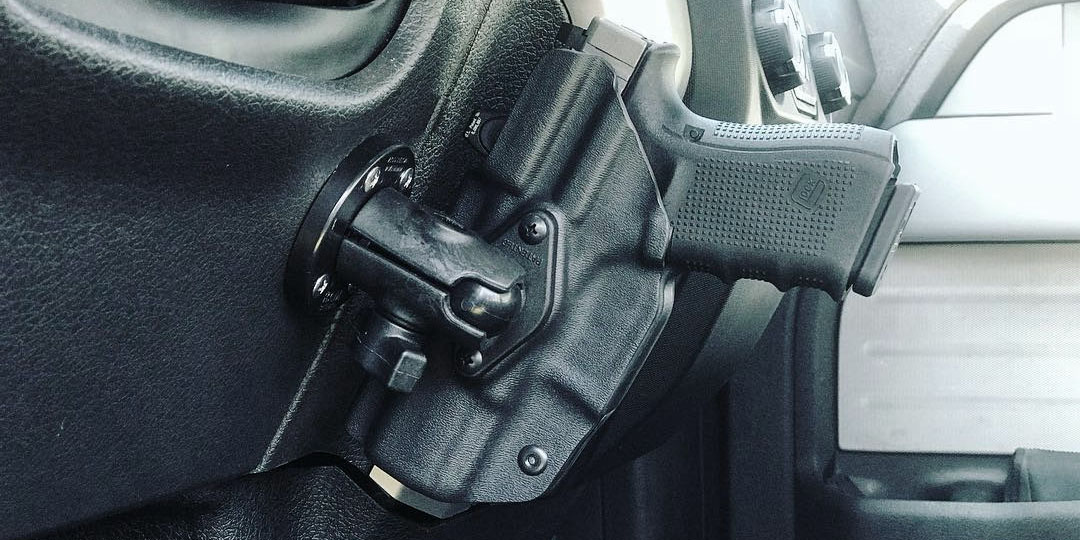 The mount is called the "Flat Surface Mount" and is most commonly mounted to the dashboard, center console, door or night stand. This system will mount to any flat surface and comes with a backing plate for added strength.
The Mount connects to the holster by a ball-and-socket type system that allow the holster to swivel in any direction. This allows you to position the holster in a way that makes drawing swift and easy.
This ball mount can be placed on either side of the holster, depending on your draw hand and where you plan to mount the holster.
If you are right handed, and plan to mount the holster underneath the steering wheel to the right, you'll want the mount placed on the left. This is so that the mounting system does not interfere with your draw.
If you are right handed and you're planning to mount the holster to the center console on the driver's side, you'll want the ball mount to be placed on the right side. While the mounting position may hinder the grip slightly, this will make mounting to the center console easier.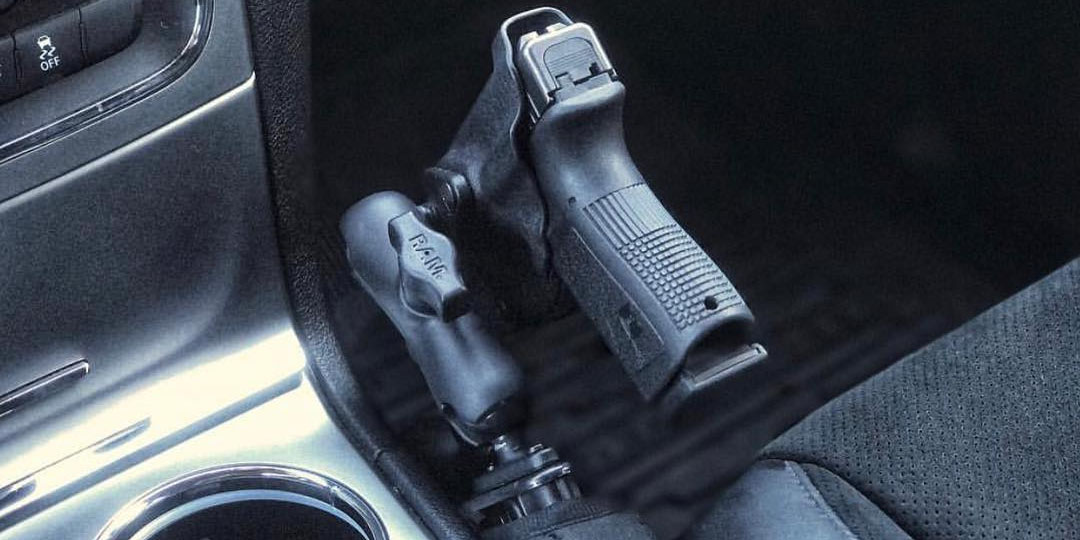 This is called the Tough-Wedge Holster. This holster features a Neoprene covered wedge that slips in between the seat and center console, most commonly placed on the passenger side. The wedge system also comes with an inflatable air bladder, which inflates similar to a blood pressure cuff to fill negative space and prevent movement.
This system is a bit pricey, due to all of the components included, however if you don't have seat rails and are not willing to drill into your vehicle's interior, this may be your best option. This system is perfect for rental vehicle and leases.
Above is our Tough-Claw Holster, which clamps down onto the seat rail or any railing with an outer diameter of .625" - 1.5". The Tough-Claw is perhaps the most versatile of all the mounting options. You can move it from vehicle to vehicle in minutes, clamp it to your tent rail, boat rail or shower curtain rod, and position it in hundred of different configurations within seconds.
If you intend to attach this holster system to your seat rail, and you are right handed, you'll want the ball mount placed on the left side. This way, your grip is facing your right hand and the sight channel is facing your driver side door.
Holster shells can be interchanged for use with multiple handguns, or one holster can be used with multiple bases if you have more than one vehicle.
Make sure your firearm is always within reach and easily accessible by mounting it close by.
FAQ's:
Q: I have a suppressor-ready gun, will the holster work with my set up?
A: Yes! We can accommodate suppressor height sights and threaded barrels, no problem at all!
Q: I have a light attachment, can you make me a Mounted Holster?
A: Possibly! Check our Full list here: https://www.daraholsters.com/list-of-firearms/
Q: Do I have to take my gun out of my hip holster to put it in the Mounted Holster?
A: If using the same gun, yes. But, as this holster is modular and can be taken off the mount to be put away, you could have a dedicated vehicle gun that stays locked in your center console/safe/glove compartment when you're away from the vehicle.
Q: Can people see the gun in the holster when it's mounted?
A: That depends on where you put it. If you've mounted the holster to the seat rail with our Tough-Claw Holster, chances are that no one will be able to see it. If you've mounted it to the dashboard or are using the Tough-Wedge Holster Mounting System, a passer by would be able to see it if looking into your vehicle. This is why the modularity of the system is key. We highly recommend detaching the gun holster from the mount when not in the vehicle.
Q: Are these Mounted Holsters legal in my state?
A: That depends on your state laws, please check the legality of open carry in a vehicle in your state. Some states require a second level of retention, which can be found in our Level 2 Retention Mounted Holster: https://www.daraholsters.com/level-ii-duty-ram-mounted-dara-holster/
Seat Rail Mount: https://www.daraholsters.com/dara-mounted-holster-with-tough-claw/
Dashboard Mount: https://www.daraholsters.com/standard-ram-mounted-vehicle-holster/
Seat Wedge Mount: https://www.daraholsters.com/expandable-tough-wedge-mounted-holster/
Have a rail mounted Light or Laser? https://www.daraholsters.com/light-bearing-ram-mounted-vehicle-holster/
Proudly made in the USA, backed by a Lifetime Warranty!