Published by Dara Holsters on 4th Feb 2020
Check out our Level 2 Duty Holster for the FN 509 Tactical with Streamlight TLR-1, WAR Comp and Trijicon RMR optic.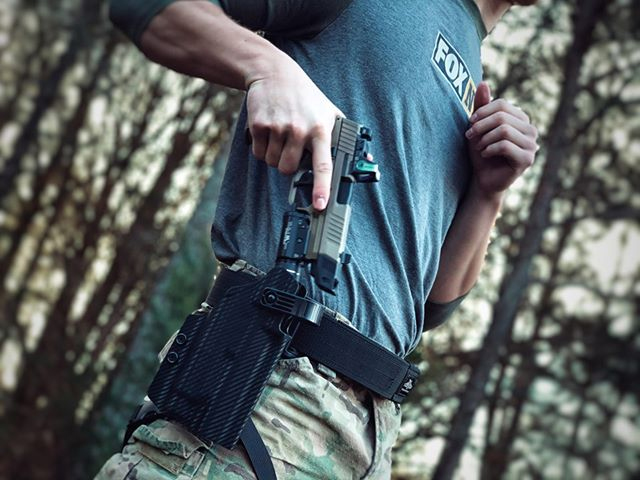 Quick Overview of the FN 509 Tactical:
The FN 509® Tactical, an extension of the FN 509 family, is based on FN's submission pistol that the U.S. Army tested for its Modular Handgun Trials, but includes the significant improvements to the design that were implemented in the FN 509. The pistol features the company's U.S Patent No. 10/352,654 Low-Profile Optics Mounting System™ that enables the platform to accept more than ten commercially-available miniature red dot (MRD) optics that co-witness with the suppressor-height night sights and remain adaptable to future optics releases with no requirement of direct milling of the slide. The slide cap, for use when not shooting with an optic, has raised sight wings that protect iron sight alignment if the pistol is dropped or jostled, and provides a textured ramp for racking the slide against a belt loop, pant pocket or boot. An FN-signature 4.5-inch, cold hammer-forged, stainless-steel barrel with target crown, ½" x 28 threads that accept the bulk of 9mm suppressors available and thread cap with integrated O-ring to prevent loosening during use complete the top end. Lastly, the 24-round magazines, nearly identical in length to the pistol's slide, maximize ammunition capacity without impacting carry convenience.
SPECS
CALIBER: 9mm
OPERATION: Double-action
MAG CAPACITY: 10 or 17/24 Rd.
WEIGHT: 27.9 oz.
BARREL LENGTH: 4.5"
OVERALL LENGTH: 7.9"
TWIST RATE: 1:10" RH
HEIGHT: 5.75"
WIDTH: 1.35"
TRIGGER PULL: 5.5 - 7.5 lb.
SIGHT RADIUS: 5.79"
PRIMARY FEATURES
Striker-fired autoloader
5.5 to 7.5 lbs. Trigger pull
FN Low Profile Optics Mounting System™ (U.S. Patent No. 10/352,654)
Threaded Barrel
Suppressor Height Trijicon 3-Dot Green Tritium Night Sights
SLIDE
FN Low Profile Optics Mounting System™ (U.S. Patent No. 10/352,654)
Sight Protecting Slide Cap
External extractor; loaded chamber indicator
BARREL
Cold hammer-forged stainless steel
Recessed target crown
Polished chamber and feed ramp
1/2" x 28 threaded Barrel
O-Ring retention thread cap
FRAME
Polymer construction with replaceable steel frame/slide rails
Enhanced grip texture which enables faster follow-up shots in all conditions
Interchangeable backstraps
MIL-STD-1913 accessory mounting rail
OPERATING CONTROLS
Fully ambidextrous slide stop lever and magazine release
MAGAZINE
High visibility, low-friction follower; polymer base with black finish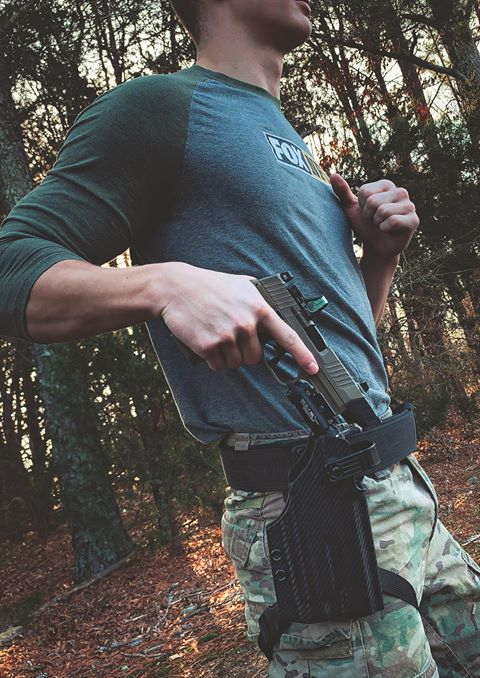 Our FN 509 Tactical has the following features:
Our Level 2 Retention Holster:
Dara's Level II Duty Holster is not just any OWB Holster with a hood slapped on it. It was designed from the ground up for the rigors of duty and guaranteed for life. Starting with a robust body formed using .125" purpose blended Polymers, then fastened with blackened stainless steel hardware. This rig utilizes our tried and true Military Grade adjustable Rubber Retention System that allows you to tune the resistance to your preferred draw stroke. Our auto throw hood is locked in place until the intuitively located thumb lever is depressed. The hood then rotates with enough force to move loose garment, making your firearm ready when you need it. Don't settle for less- if you demand quality and endless reliability, you've found it.
Features:
-Our Custom Duty OWB Holsters are hand crafted in the USA from .125" Boltaron and molded precisely to each firearm for a perfect fit.
-Our newly redesigned Duty Holsters are now equipped to accommodate slide mounted optics and suppressor height sights.
-Our Level 2 Retention rotating hood is newly redesigned.
-Adjustable Level 1 Retention System. Our rubber retention system was designed by us for use specifically with our holsters. Able to hold the most minute adjustments, this advanced system eliminates the need for loctite or any other thread locking substance.
-The Level 2 Duty Holsters comes attached to our Drop Offset System and Double Loop. This system drops the holster to clear body armor and to allow for a more natural draw stroke.
-The Double Loop attachment fits 1.5"-2.25" belts. The belt width is adjustable and eliminates the need to purchase multiple attachments for different belts. The double loop also allows for ride height and cant angle adjustment.
-Holster comes with an optional leg strap for added stability.
Be sure to checkout out our OWB Magazine Carriers, as well as our IWB Holsters for your backup gun.