Published by Dara Holsters on 8th Jun 2021
Most Popular Holsters of 2021:
Take a look at the Drop Offset Action Sport Holster, our Light bearing Level 2 Duty Holster, the ALQD Mounted Holster and the Light bearing OWB Holster.
With the Shooting Sports season in full swing, our OWB Holsters and Competition Holsters have become our most popular and top selling product. Read on for a full product description and which one is best for each application.
Drop Offset Action Sport Holster
Our Drop Offset Action Sport Holster is our best selling Competition Holster. With our IDPA legal ejection port cut and proprietary drop offset, you can achieve a speedy draw stroke and faster target acquisition.
Formed using .093" Boltaron and fastened using blackened, hardened steel hardware our holster is built tough; resistant to the elements. The draw resistance is adjustable with a Philip's head screwdriver and tested prior to shipment to maintain our standard of quality.
Our Drop Offset Holster can be made for over 350 firearms and comes in a light bearing variation, here. Please choose your exact configuration from the drop down menu. We only guarantee a perfect fit for firearms listed on our menu.
Each holster has the option of right or left hand draw. The belt size is adjustable from 1.5"-2.25" in width, however we do require you to select the size on the order form so that the holster will ship ready to use. The Double Loop allows you to also adjust the ride height and cant angle of the holster.
The Drop Offset Holster comes with two leg strap options, a 1" nylon leg strap or our 1.5" elastic option. The elastic leg strap is adjustable and can be removed quickly should you not need it.
This competition rig can me broken down into 4 parts: the Double Loop, Drop Attachment, Holster Body and Leg strap. The Holster Body is compatible with all Dara Holsters attachments, including the ALQD Quick Disconnect. Please note, the ALQD does not pair well with the drop offset attachment- this combination causes the holster to offset drastically.
To make the Drop Offset Holster IDPA legal, you will need to remove the drop offset piece and attach the holster directly to the double loop.
Light bearing Duty Holster
Our Duty Holsters come in two configurations: the standard Duty Holster and the Light bearing Duty Holster. Please note that these level 2 holsters are intended for Law Enforcement or Shooting Sports. They are not intended or designed to be concealable.
The body of our Duty Holsters are formed using .125" Boltaron, fastened with blackened, hardened steel hardware. Retention is adjustable with a Philip's head screw driver and tested prior to shipment with strict draw resistance parameters.
Our auto throw hood is locked in place until the intuitively located thumb lever is depressed. The hood then rotates with enough force to move loose garment, making your firearm ready when you need it.
Our Duty Holsters are available to order in bulk for your agency. For a quote, please email us at support@daraholsters.com
For a video demonstration see below:
Each holster is backed by a no BS lifetime warranty and guaranteed to fit perfectly.
ALQD Mounted Holster
Our newest product to hit the market is our ALQD Auto Locking Quick Disconnect system. The Quick Disconnect allows you to attach, detach and swap gear effortlessly without unholstering your firearm.
To operate the ALQD, ensure the manual safety lock is disengaged, depress the thumb lever and slide the holster to detach. For a demonstration, see below:
The ALQD Mounted Holster is ideal for shooting sports, or any type of firearm enthusiast. See below how Jon Dara, owner of Dara Holsters & Gear, uses his ALQD Mounted Holster: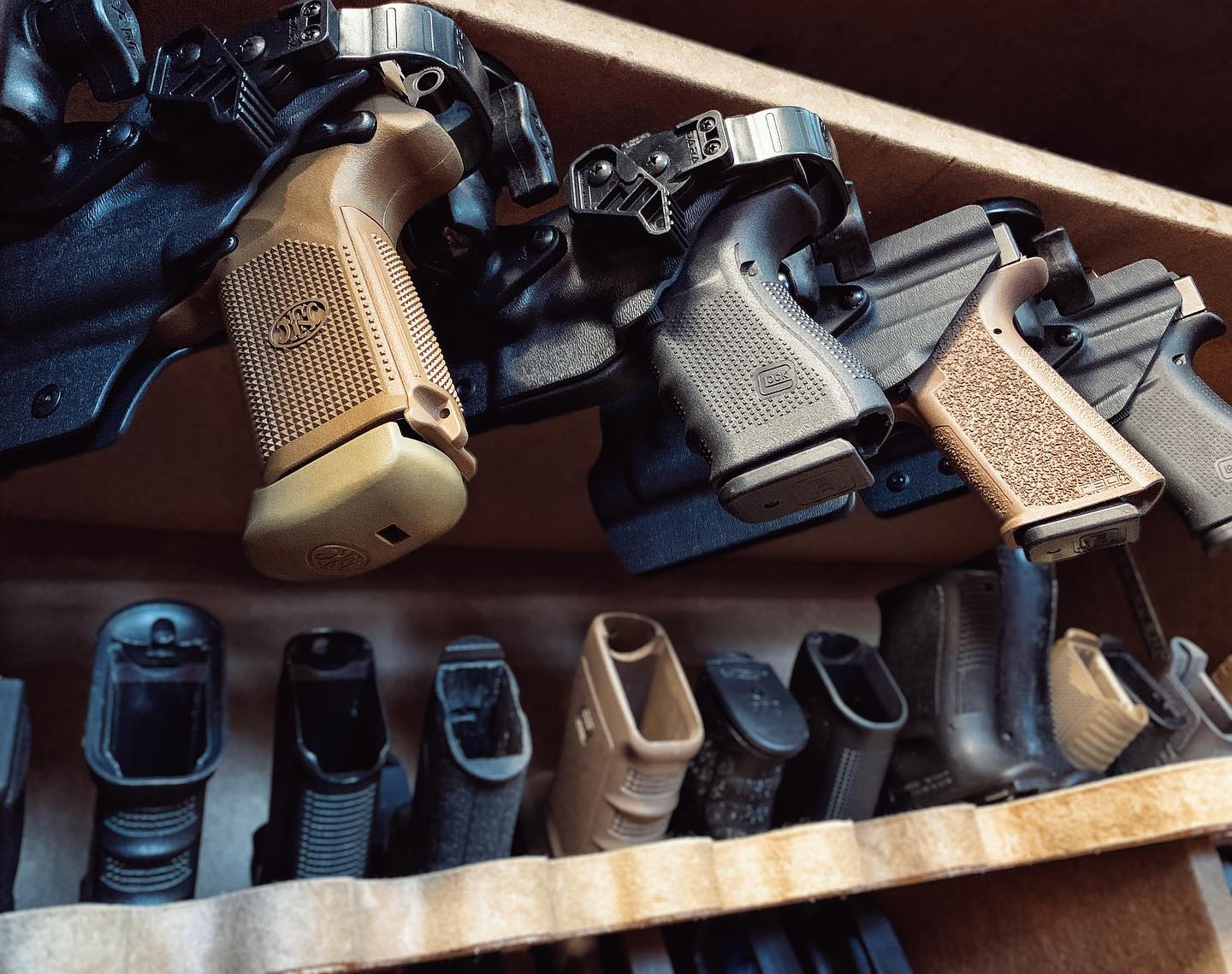 Mount your holster in your safe, to your belt and to your vehicle without unholstering.
OWB Holster
Our OWB Holsters are formed using .093" thick purpose blended polymers, fastened with our standard blackened, hardened steel hardware. All hardware is secured using lock washers and a packet of thread locker is an optional add-on to your shipment.
To apply thread lock, remove your retention screws, dip screws into thread locker and reinstall hardware adjusted to your desired draw resistance. Do no use permanent locktite on retention hardware, instead use adjustable thread lock.
Each Dara OWB Holster is compatible with our OWB attachments: the Double Loop (comes standard on all OWB Holsters), the Paddle and the Single Loop. Other compatible attachments include: Drop Offset, the Straight Drop, the ALQD and the RAM Mounting Ball.
Our OWB Holsters are available for light bearing firearms and non light bearing variants and made for both left or right handed shooters. Each OWB Holster comes optics ready with an enhanced sight channel for co-witness sights.
For more holster options, check out our IWB Holster section for Concealed Carry and our OWB Holster section for open carry or competition use.
Questions? Contact us!