Published by Dara Holsters on 13th Sep 2019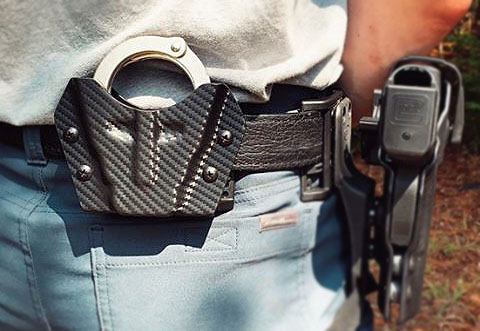 Check out our newest product: Handcuff Carriers for Smith & Wesson Chain Cuffs!
New Handcuff Carrier for S&W Chain Cuffs
We didn't reinvent the wheel- we simply made it better!
Better alignment for re-holstering.
Secure and Adjustable Retention- Equipped to handle the rigors of duty.
Double Loop System keeps your Cuff Carrier stable, with maximum adjustability.
Made from rugged .093" Kydex/Boltaron and fastened with Blackened Stainless Steel hardware.
Related Items:
Duty Holsters
-Our Custom Duty OWB Holsters are hand crafted in the USA from .125" Boltaron and molded precisely to each firearm for a perfect fit.
-Our newly redesigned Duty Holsters are now equipped to accommodate slide mounted optics and suppressor height sights.
-Our Level 2 Retention System is newly redesigned to include a lever operated, spring assisted rotating hood.
-Adjustable Level 1 Retention System. Our rubber retention system was designed by us for use specifically with our holsters. Able to hold the most minute adjustments, this advanced system eliminates the need for loctite or any other thread locking substance.
-The Level 2 Duty Holsters comes attached to our Drop Offset System and Double Loop. This system drops the holster to clear body armor and to allow for a more natural draw stroke.
-The Double Loop attachment fits 1.5"-2.25" belts. The belt width is adjustable and eliminates the need to purchase multiple attachments for different belts. The double loop also allows for ride height and cant angle adjustment.
-Holster comes with an optional leg strap for added stability.