Published by Dana on 21st Sep 2017
Our Custom Quick Ship AIWB Holster Update!
Our AIWB Holster WEDGE has been upgraded to our Grip Concealment CLAW.
What is the main difference between our Custom AIWB Holster, and our Custom Quick Ship AIWB Holster?
The Custom AIWB Holster is able to be completely built from the ground up. You can choose from our full selection of 300+ firearm models and select everything from the ride height to the cant angle and so on. The est. wait time is about 2-2.5 weeks.
Our Custom Quick Ship Holster is available for quite a few firearms (not all) and is offered with a set ride height and cant angle (our most popular specs Mid Ride / Straight Draw) and in 3 different colors. You can still choose your belt attachment option, but it's essentially set up for the fastest manufacturing time to get the holster out faster than a regular Custom AIWB Holster order. The est. wait time is about 5 days.
And to confuse you even further, we do offer some Quick Ship AIWB Holsters! These are in stock ready to ship, with no options to choose from.
As for the Updates: our Custom Quick Ship AIWB Holster will now come with the Wedge Option to tuck the grip into the body. The Wedge is our own design, integrated into the mold of the holster during production. It is not an after market piece.
This is what the wedge looks like: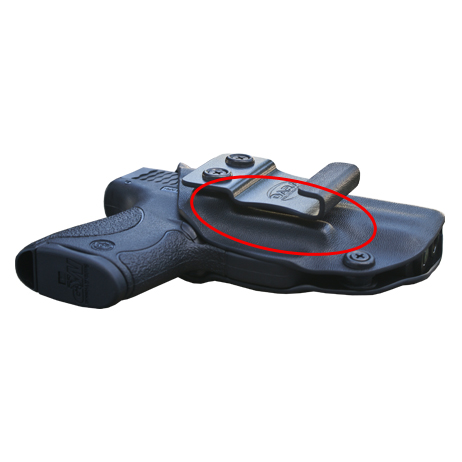 This is without a wedge:
The wedge is designed to push on the belt (which should be a sturdy, proper gun belt) and tuck the grip into the body. Please note that there are some circumstances where the outer dimensions of the firearm will work against this. We will do our best to accommodate the various firearm models in this instance. However, please keep in mind that if you are very small framed carrier and have a very large carry gun, this will not magically make the firearm disappear.
The Custom Quick Shipping AIWB Holster with Wedge comes with a full sweat shield (as shown above) and is set with a Mid Ride Height and Straight Draw.
As you can determine in the picture below, the top of the belt will sit at the exact point where the trigger guard meets the frame. This gives most carriers a sure grip, however if you have larger than normal hands, a Custom AIWB Holster with a high ride height may be more suitable.