Nobody wants to spend a ton of money on garbage holsters. Many of us seasoned Concealed Carriers have coined the saying "Buy once, Cry once" when it comes to purchasing holsters, having gone through a holster at every price point until we've finally learned that you actually do get what you pay for. But what if that wasn't always true? Read on...
What if a reputable holster company spent years doing Market Research, compiled a half decade's worth of feedback and made the ultimate Concealed Carry Holster based off the actual needs of the customer?
Let's take the features that are most important and conducive to concealed carry:
1. Concealability
2. Low Profile Design
3. Adjustability
4. Tuckability
5. Versatility
6. Dependability
All of these features put together would make the greatest concealment holster on earth, yet nearly every holster available on the market lacks at least one of these key features. Until now...
The MTO Minimalist IWB Holster
The MTO Minimalist IWB Holster is the most concealable, versatile and quality holster on the market right now. Since it's introduction in March, these holsters have been flying on the shelves- we can't produce them fast enough! Here's why:
1. Concealability:
Every design element used in creating this holster is conducive to concealed carry. The holster covers the trigger guard to keep you safe, but eliminates all excess material that may cause unnecessary bulk. Unlike many holsters on the market, the Minimalist IWB Holster is molded precisely to your model firearm using manufacturing methods that allow us to ensure quality and fit before shipment.
We don't use a computer program to cut out a one-size-fits-all holster shape. We works with our hands to ensure every curve is custom shaped to each firearm to ensure the lines of the holster work with the body and firearm to provide the most comfortable and concealable shape.
2. Low Profile Design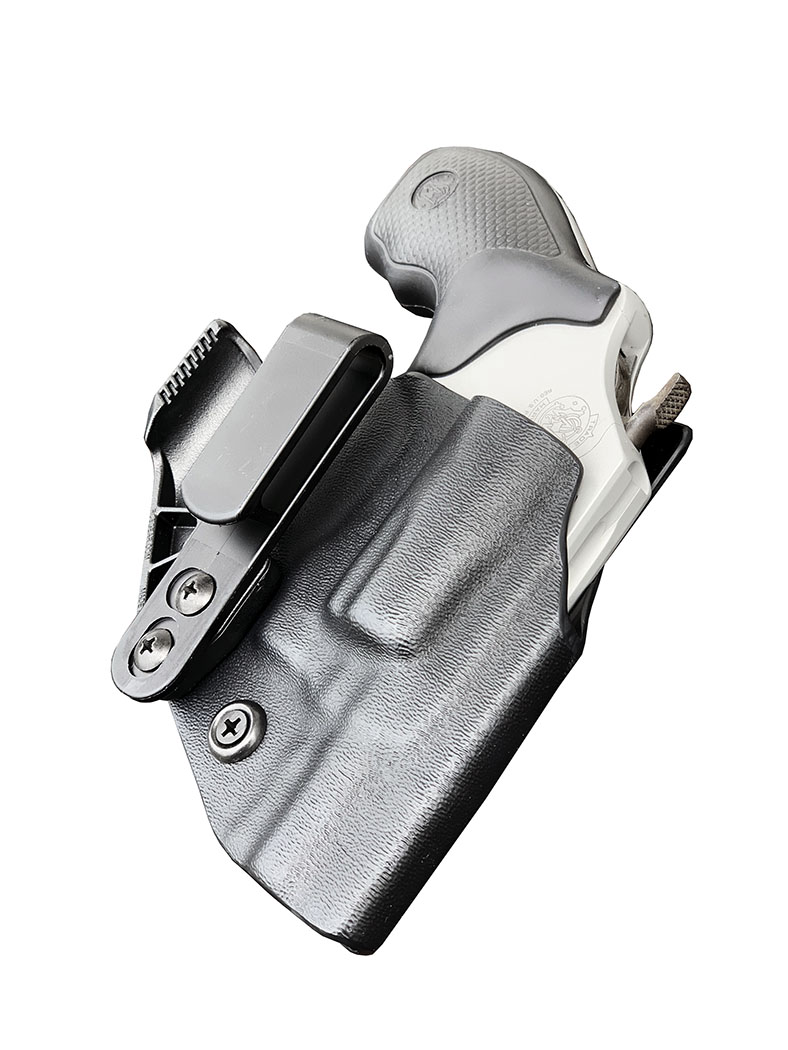 As you can see, the Minimalist IWB Holster (shown above) has a deep cut out where the rear sights would be, preventing a potential printing point. The holster also comes with an offset clip, mounted to the thinnest area of the firearm. This keeps the holster very slim, boosting concealability.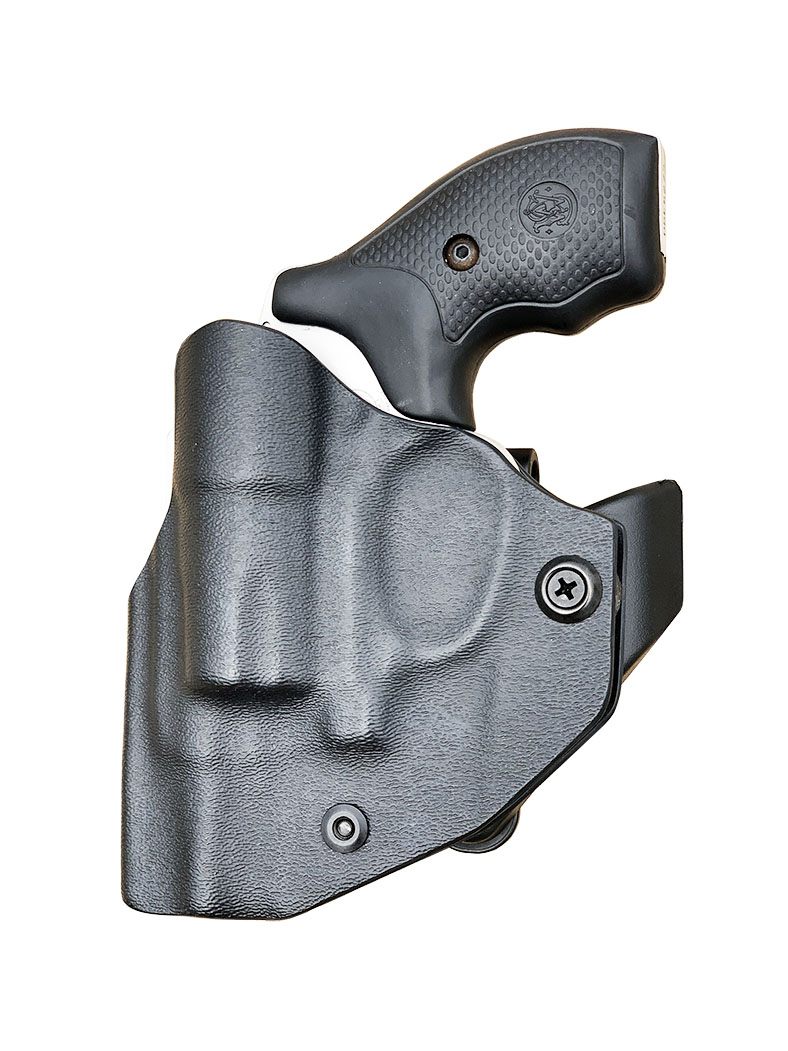 While the Minimalist Holster can be made for suppressor ready and optic ready models, we don't add any bulk or accommodate for extended controls unless you say so. The Minimalist comes with basic, standard options unless otherwise specified. This keeps is simple and low profile right off the bat.
3. Adjustability
The MTO Minimalist Holster comes with an adjustable cant angle, which is able to be manipulated from 15° forward to 15° reverse cant. This allows you to carry cross draw, at the appendix, at the hip or even the small of back- all with the same holster. A forward cant angle would be ideal for hip carry (strongside carry) all the way to the small of back. While a reverse cant is ideal for crossdraw or even appendix carry. Straight draw is the setting that is most common as it is most versatile.
All you need to adjust the cant angle of the Minimalist IWB Holster is a Philip's head screwdriver. There are two screws securing the clip that need to be loosened in order to adjust. After these screws are slightly loosened you can shift the clip in either direction to change the cant angle.
Keep in mind that a reverse cant angle will tilt the grip downwards and could potentially bury the grip in the waistband.
Also note the adjustable retention. Many holsters with a similar design lack adjust retention, which can be detrimental if the holster isn't fitted properly. A holster that's too tight can scratch the finish of your firearm, make drawing the gun difficult, or even cause the holster to come off the belt when trying to draw. Without being able to adjust the retention of a too tight or too loose holster, it's basically useless.
The MTO Minimalist IWB Holster comes with adjustable retention held in the trigger guard, resulting in an audible click when fully seated. This lets you know that your firearm is securely holstered.
4. Tuckability
The Minimalist IWB Holster comes with a slim, tuckable clip attachment mounted to the bottom of the trigger guard. The shirt goes between the holster and the clip, allowing you to carry concealed under a tucked in shirt.
As you can see in the pictures above, the Minimalist IWB Holster allows you to tuck your shirt in over the holster for full concealability. This convenient feature allows you to carry at work, when business casual is required, in church clothing or evening attire, as well as in every day casual clothing.
5. Versatility
Ever heard the phrase "Jack of all trades; Master of none"? That doesn't apply to the Minimalist holster. Because of its incredible design and adjustability, this holster can be worn anywhere. Want to switch from small of back to appendix carry? No problem. Not only can you adjust the cant angle, you can also add the claw attachment to aid in concealment. The Grip Concealment Claw pushed against the belt, pulling the grip into the body.
If you choose to carry in a position where the concealment claw is not necessary, it is easily taken off with a screwdriver.
6. Dependability
Dara Holsters has spent the last 6 years perfecting the design of the IWB Holster. Using only the best materials available, paired with hands-on manufacturing, we guarantee our holsters will outlast any other on the market. Don;t believe us? Check out some of our reviews!
We know what it's like to shop for a holster. We've been there before. That's how we got started manufacturing Kydex holsters in 2011, and our dedication to customer satisfaction and quality is why we've risen to #1. Find out we've got the highest return customer rate in the industry; and why everyone is switching to Dara Holsters.
Frequently Asked Questions: MTO Minimalist IWB Holster
My Pistol is Suppressor Ready, will it fit this holster?
Yes! Please let us know in the Custom Notes section that your pistol is suppressor ready and we will accommodate your taller sights and threaded barrel. If you have taller sights and do not check "YES" for suppressor height sights, your holster won't fit.
I have an Optic, will this holster work?
Yes, the Minimalist IWB Holster comes standard with the slide cut to accept an optic. If you have cowtiness sights, please check "YES".
I have a Light/Laser, will this holster work?
No. Please see our Light bearing IWB Holster.
Will this holster work for appendix carry?
Yes, but we also offer an appendix carry version: MTO Minimalist AIWB Holster.
Is this holster tuckable?
Yes!
I have the Tactical/Omega/ETC version of a pistol listed in the drop down menu.
Please let us know in the Custom Notes section so we can ensure a perfect fit!
My carry gun is not listed on your drop down menu, what do I do?
Please contact us to see if there are any options. Sometimes we are able to make it work.
Is this holster returnable if I don't like it?
Yes, you have 30 days from delivery to make up your mind! If you have any concerns, please let us know immediately!
What kind of Warranty do you offer with this holster?
Full lifetime warranty! If anything happens, call us and we will fix or replace the holster for free.